National Assembly of the Republic of Serbia / Activities / Activity details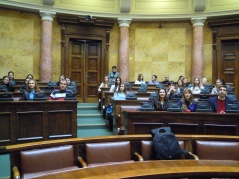 9 February 2012 Interns of generation 2011 presented with diplomas and new interns – generation 2012, welcomed into the National Assembly Student Practice Programme
Thursday, 9 February 2012
National Assembly Student Practice Programme
Generation 2011 of the Student Practice Programme has completed its internship at the National Assembly today, while the new attendees of the Programme, generation 2012, began their eight-month internship.
---
At the ceremony at the National Assembly House, National Assembly Speaker Prof. Dr Slavica Djukic Dejanovic greeted the two generations of interns emphasising the importance of meetings such as this one as ideal for sharing experiences, advice and knowledge. For nine years running the National Assembly has opened its doors to the youth, added the Speaker, hoping that the interns have achieved their goals through the practice programme at the National Assembly and wishing the new generation success.
The old and new interns were greeted by Thomas Kelly, NDI Director in Serbia, who stressed the importance of the programme both for the state and the interns who have built an important base from which to hone their skills further. Kelly added that he was very proud of the achievements of the interns who had completed the Student Practice Programme at the National Assembly, wishing them successful careers.
National Assembly Secretary General Veljko Odalovic presented the interns of generation 2011 with diplomas and welcomed the interns of generation 2012. The Student Practice Programme is invaluable for both the National Assembly and the youth who through it gain insight into its functioning. The National Assembly has successfully addressed numerous challenges and achieved a lot as regards Euro-integration in the previous period, added Odalovic.
Student practice at the National Assembly was launched in 2003 and, so far, more than 200 students from various faculties (Faculties of Law, Economy, Philology and Political Sciences) have interned and completed the practice programme at the National Assembly.
Last year, from 15 May 2011 to 15 January 2012, 24 students attended the Student Practice Programme realised by the National Assembly in cooperation with the NDI which offers the youth full assistance and support in gaining practical experience.
This year, 2012, the National Assembly received 145 applications out of which 20 students have been chosen, following a selection, a test and an interview, to attend the student practice programme. The students, in their senior year at the Faculties of Law, Economy, Philology and Political Sciences, will be working at the National Assembly departments, committees and parliamentary groups in the next eight months. The programme aims to enable the students to gain practical knowledge about the responsibilities and function of the National Assembly Service.
Once again, the Internship Programme is realised with the support of NDI.
---
---
thursday, 1 december
9.45 - press conference of MP Usame Zukorlic (National Assembly House, 13 Nikola Pasic Square, Central Hall)

10.30 - the National Assembly Speaker meets with a delegation of the Turkish Grand National Assembly Committee on Foreign Affairs (National Assembly House, 13 Nikola Pasic Square, hall 1)

10.30 - press conference of the GREEN – LEFT CLUB, DON'T LET BELGRADE D(R)OWN, WE HAVE TO Parliamentary Group (National Assembly House, 13 Nikola Pasic Square, Central Hall)

11.10 - the members of the Foreign Affairs Committee meet with the delegation of the Turkish Grand National Assembly Committee on Foreign Affairs (National Assembly House, 13 Nikola Pasic Square, hall 2)

12.00 - sitting of the Culture and Information Committee (National Assembly House, 13 Nikola Pasic Square, hall 4)

12.00 - press conference of MPs Slavica Radovanovic, Sanda Raskovic Ivic, Tatjana Manojlovic, Radmila Vasic and Jelena Kalajdzic (National Assembly House, 13 Nikola Pasic Square, Central Hall)

13.00 - sitting of the Committee on Administrative, Budgetary, Mandate and Immunity Issues (National Assembly House, 13 Nikola Pasic Square, hall 3)

13.00 - the National Assembly Speaker meets with the Swedish Ambassador to Serbia (National Assembly House, 13 Nikola Pasic Square, hall 1)

14.00 - sitting of the Defence and Internal Affairs Committee (National Assembly House, 13 Nikola Pasic Square, hall 3)

18.30 - representatives of opposition parliamentary groups meet with the EU Commissioner for Neighbourhood and Enlargement (National Assembly House, 13 Nikola Pasic Square, hall 2)