National Assembly of the Republic of Serbia / Activities / Activity details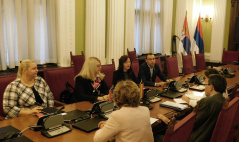 5 November 2019 The National Assembly standing delegation to PACE in meeting with the Spanish Ambassador to Serbia
Tuesday, 5 November 2019
National Assembly Standing Delegation to PACE Meets with Spanish Ambassador to Serbia
The Head of the National Assembly standing delegation to the Parliamentary Assembly of the Council of Europe (PACE) Prof. Dr Aleksandra Tomic and substitute delegation member Aleksandar Markovic met today with the Spanish Ambassador to Serbia H.E. Raul Bartolome Molina.
---
The officials spoke about the two countries' traditionally friendly relations resulting in a strong and continuous support in matters of common interest. In that light the Spanish Ambassador stressed that his country's stance on the independence of Kosovo-Metohija remains unchanged and Spain will support Serbia's decision and choice when the time comes. The self-declared independence of so-called Kosovo is a flagrant violation of international law and Spain's stance on it has not changed with the change of government nor will it in future.
"We fully support Serbia's vision and the continuation of dialogue between Belgrade and Pristina", said the Spanish Ambassador. He added that he hopes Spain can continue to count on Serbia's support on the Catalonia issue.
The Head of the National Assembly standing delegation to PACE Prof. Dr Aleksandra Tomic spoke about the current issues Serbia is faced with in PACE, the first being the Monitoring Report on Serbia now 7 years overdue even though the Council of Europe Committee of Ministers had voted that Serbia should move to the post-monitoring stage back in 2015. The second open issue is the Report on Kosovo-Metohija which, two years after the Spanish rapporteur worked on it, is yet to be adopted, putting Serbia again in the unenviable position to wait for the election of a new rapporteur to a two-year mandate.
The officials stressed that they expected a continuation of the successful cooperation of the two delegations in PACE and mutual support on the international stage.


---
---
tuesday, 18 january
14.00 - the National Assembly Speaker meets with OSCE Parliamentary Assembly Secretary General (National Assembly House, 13 Nikola Pasic Square, diplomatic salon of Prince Pavle)