National Assembly of the Republic of Serbia / Activities / Activity details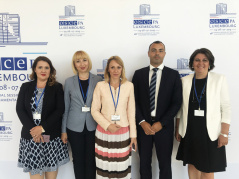 4 July 2019 National Assembly's standing delegation at the OSCE PA Annual Session
Thursday, 4 July 2019
National Assembly Standing Delegation at OSCE PA Annual Session
The standing delegation of the National Assembly of the Republic of Serbia to the OSCE Parliamentary Assembly, headed by Stefana Miladinovic and comprising Dusica Stojkovic, Branimir Jovanovic and Vesna Markovic, is taking part in the OSCE PA Annual Session, on 4 - 8 July, in Luxembourg.
---
Day one started with a meeting of the Standing Committee, attended by Stefana Miladinovic as head of the delegation, focusing on the Report of OSCE PA Secretary General Roberto Montella and the Report of the OSCE PA President George Tsereteli.
The members Standing Committee voted for the reappointment of OSCE PA Secretary General Roberto Montella for a second term in office. The Standing Committee also adopted the Resolution submitted by MP Stefana Miladinovic "Digitalization as an Advantage for Gender Policies". The document will be part of the joint declaration adopted on the last day of the Annual Session.
At today's meeting the Silk Road Support Group elected the leadership of the Group active in the OSCE Parliamentary Assembly.

The Support Group unanimously elected Azay Guliyev of the Azerbaijani delegation its Chair, and Filippo Lombardi of Switzerland and Stefana Miladinovic, head of the Serbian delegation, vice-chairs.
The Republic of Serbia is one of the 17 OSCE member states that created the Silk Road Support Group, taking active part in its work on furthering economic cooperation, promoting mutually beneficial economic and trade ties, developing multimodal transport corridors, free and secure movement of persons, goods, services and investments. Today, Uzbekistan joined the founders' club.
The OSCE PA 28th Annual Session was opened by Fernand Etgen, President of the Chamber of Deputies of Luxembourg, who welcomed the delegations, followed by George Tsereteli, President of the OSCE PA, Xavier Bettel, Prime Minister of Luxembourg, and Steny Hoyer, United States House Majority Leader and Founding Member of the OSCE Parliamentary Assembly.


---
---
monday, 23 may
No announcements for selected date