National Assembly of the Republic of Serbia / Activities / Activity details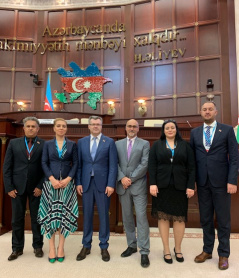 21 June 2019 The National Assembly delegation at the 53rd Plenary Session of the Parliamentary Assembly of the Black Sea Economic Cooperation
Friday, 21 June 2019
National Assembly Standing Delegation at 53rd PABSEC Plenary Session
The National Assembly standing delegation to the Parliamentary Assembly of the Black Sea Economic Cooperation (PABSEC), headed by MA Igor Becic and comprising Katarina Rakic, Milija Miletic, Zoltan Pek, MA Ivan Kostic and Aleksandra Belacic, took part in the organization's 53rd Plenary Session in Baku, Azerbaijan, 19 - 21 June 2019.
---
The main topic of the session was sustainable development and energy in the BSEC region. In his address, the head of the delegation MA Igor Becic stressed that the Republic of Serbia greatly appreciates the cooperation on joint bilateral projects with each of the BSEC member states, as well as on multilateral sustainable energy projects. He said that the Republic of Serbia and its President Aleksandar Vucic is very interested in being part of the TurkStream project and has started the activities on it, strategically one of the most important projects and a strategic investment into Serbia's future development. The heads of the Russian and Turkish delegations also highlighted the importance of the TurkStream project, giving it their full support. Becic went on to say that energy efficiency, use of renewable energy sources, environmental protection and reducing climate change impact are an important segment of Serbia's transition to sustainable energy.
The head of the standing delegation MA Igor Becic was unanimously elected Vice-President of the Parliamentary Assembly of the Black Sea Economic Cooperation in charge of financial affairs.
Standing delegation member Aleksandra Belacic thanked the Republic of Azerbaijan for respecting Serbia's territorial integrity and sovereignty and endorsed the continued political and economic cooperation with the Russian Federation and Eurasian alliance.
The session also touched on the pension systems in the BSEC member states, "Green Economy, Blue Growth" and the role of the ombudsman institutions in strengthening democracy in the BSEC member states.


---
---
tuesday, 4 october
10.00 - press conference of the GREEN – LEFT CLUB, DON'T LET BELGRADE D(R)OWN, WE HAVE TO Parliamentary Group (National Assembly House, 13 Nikola Pasic Square, Central Hall)

11.00 - sitting of the Committee on Education, Science, Technological Development and the Information Society (National Assembly House, 13 Nikola Pasic Square, hall 3)

11.00 - sitting of the Committee on Finance, State Budget and Control of Public Spending (National Assembly House, 13 Nikola Pasic Square, hall 2)

12.00 - press conference of MP Tatjana Manojlovic (National Assembly House, 13 Nikola Pasic Square, Central Hall)

12.15 - press conference of the HOPE – NEW DSS – POKS Parliamentary Group (National Assembly House, 13 Nikola Pasic Square, Central Hall)