National Assembly of the Republic of Serbia / Activities / Activity details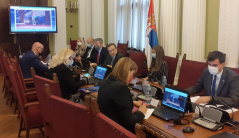 19 April 2021 The standing delegation of the National Assembly of the Republic of Serbia to PACE, headed by National Assembly Speaker Ivica Dacic, begans its participation in the Spring Session
Monday, 19 April 2021
National Assembly Standing Delegation Headed by Dacic at PACE Spring Session
The standing delegation of the National Assembly of the Republic of Serbia to the Parliamentary Assembly of the Council of Europe (PACE), headed by National Assembly Speaker Ivica Dacic began its participation in the PACE Spring Session, held in a hybrid format from 19 to 22 April 2021.
---
On the occasion of the German Chairmanship of the Committee of Ministers, German Chancellor Angela Merkel and Minister of State for Europe Michael Roth and Minister of Foreign Affairs Heiko Maas will address the participants. The President of the European Parliament, David Sassoli, President of the Republic of Moldova Maia Sandu, and Council of Europe Secretary General Marija Pejcinovic Buric will also address the Parliamentary Assembly.
The Assembly will consider the report "Preserving National Minorities in Europe" prepared by the member of the Serbian delegation Elvira Kovacs, as the rapporteur of the Committee for Equality and Non-Discrimination.
The agenda of the spring session also includes a debate on the Parliamentary Assembly's vision of the Council of Europe's strategic priorities and a joint debate on human rights violations and the need for electoral reform in Belarus.
The Assembly will also discuss the OECD's on taxing the digital economy, discrimination against people with chronic and long-term illnesses, post-monitoring dialogue with Montenegro and European policy on diasporas. There will also be urgent debates on "The arrest and detention of Alexei Navalny in January 2021" and on "The functioning of democratic institutions in Turkey".
Besides Ivica Dacic as head of the delegation, the following members of the standing delegation of the National Assembly of the Republic of Serbia to PACE also take part in the Spring Session: Dr Aleksandra Tomic, Dubravka Filipovski, Biljana Pantic Pilja, Zoran Tomić, Elvira Kovacs and Enis Imamovic.
---
Photo gallery
---
---
thursday, 11 august
No announcements for selected date