National Assembly of the Republic of Serbia / Activities / Activity details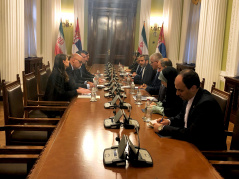 6 October 2022 National Assembly Speaker Dr Vladimir Orlic in meeting with the Deputy Minister of Foreign Affairs of the Islamic Republic of Iran Ali Bagheri
Thursday, 6 October 2022
National Assembly Speaker with Iranian Deputy Foreign Minister: Ready to Improve Cooperation
The Speaker of the National Assembly of the Republic of Serbia Dr Vladimir Orlic met today with the Deputy Minister of Foreign Affairs of the Islamic Republic of Iran Ali Bagheri.
---
As they noted, bilateral relations between the two countries are at a high level, which is a solid foundation for the further development of comprehensive cooperation. "Our relations are not only based on friendship and mutual understanding, but on standing up for the principles of international law as well. I would like to thank Iran for its principled stance and the support it provides to us regarding Kosovo- Metohija," said Dr Orlic, emphasising the importance of respecting our country's sovereignty and territorial integrity.
The officials concluded that dialogue and working toward a peaceful resolution are the only real way to overcome crises anywhere. "In difficult times, one should act responsibly, wisely and with a cool head. Which seems to be especially difficult in today's world. Serbia preserves its independence in decision-making, protects its national and state interests and advocates respect for the sovereignty and territorial integrity of any state. These should be the basic principles of international law that many are talking about today, but they have violated them in case of our country, which the President of Serbia Aleksandar Vucic clearly pointed out before the United Nations," said Dr Orlic.
He reminded the guest that Serbia is faced with dangerous threats on a daily basis, even ones that endanger the physical safety of Serbs in Kosovo, because the Pristina side does not respect its obligations from the signed agreements and openly provokes escalations. "Despite everything, Serbia today is recognised as a factor of stability and a leader in regional cooperation, the best proof of which is the "Open Balkans" initiative which we are proud to say originated from and President Aleksandar Vucic," said Dr Orlic.
Deputy Minister Bagheri said that both Serbia and Iran are faced by security threats which for the main part are the result of external factors, but the two countries must continue to work on further strengthening comprehensive cooperation in order to jointly cope with these challenges. "The continuation of consultations such as these not only brings the positions of Serbia and Iran closer, but it also allows us to create a road map for future cooperation," said the Deputy Minister.
He emphasised the importance of strengthening interparliamentary cooperation and welcomed the announcement of the formation of a Parliamentary Friendship Group with Iran in Serbia's new National Assembly legislature. In the course of the meeting, the both parties expressed readiness to further improve cooperation across the board.
---
Photo gallery
---
---
thursday, 8 december
8.30 - the National Assembly Speaker meets with the Chairperson of the Standing Committee of the Council of the Republic of Belarus for Economy, Budget and Finances and the Ambassador of Belarus in Serbia (National Assembly House, 13 Nikola Pasic Square, hall 1)

10.00 - continuation of the Third Sitting of the Second Regular Session of the National Assembly of the Republic of Serbia in 2022 (National Assembly House, 13 Nikola Pasic Square)

11.00 - press conference of the HOPE – NEW DSS – POKS Parliamentary Group (National Assembly House, 13 Nikola Pasic Square, Central Hall)

12.00 - sitting of the Subcommittee on Sports (National Assembly House, 13 Nikola Pasic Square, hall 3)

12.00 - National Assembly Speaker and PABSEC President Dr Vladimir Orlic to address PABSEC General Assembly Spring Session (Hilton Hotel, 35 Kralja Milana Street)

12.00 - sitting of the Committee on Administrative, Budgetary, Mandate and Immunity Issues (National Assembly House, 13 Nikola Pasic Square, hall 2)

13.00 - ceremonial welcome of the Speaker of the Grand National Assembly of the Republic of Turkey (National Assembly House, 13 Nikola Pasic Square, Central Hall)

13.05 - the National Assembly Speaker meets with the Speaker of the Grand National Assembly of the Republic of Turkey (National Assembly House, 13 Nikola Pasic Square, hall 1)

13.40 - press conference of the National Assembly Speaker and Speaker of the Grand National Assembly of the Republic of Turkey (National Assembly House, 13 Nikola Pasic Square, Central Hall)

14.15 - press conference of MPs Janko Veselinovic, Anna Oreg, Danijela Grujic, Borislav Novakovic, Jelena Kalajdzic and Dragana Rakic (National Assembly House, 13 Nikola Pasic Square, Central Hall)

15.00 - sitting of the European Integration Committee (National Assembly House, 13 Nikola Pasic Square, hall 2)

15.00 - the PFG with Belarus meets with the delegation of the Council of the Republic of the National Assembly of the Republic of Belarus (National Assembly House, 13 Nikola Pasic Square, hall 3)

15.30 - sitting of the Committee on Administrative, Budgetary, Mandate and Immunity Issues (National Assembly House, 13 Nikola Pasic Square, hall 2)