National Assembly of the Republic of Serbia / Activities / Activity details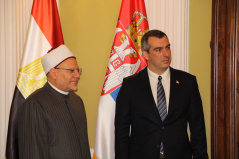 7 June 2023 The National Assembly Speaker and the Grand Mufti of the Arab Republic of Egypt
Wednesday, 7 June 2023
National Assembly Speaker with Grand Mufti of Egypt
The Speaker of the National Assembly of the Republic of Serbia Dr Vladimir Orlic met today with the Grand Mufti of the Arab Republic of Egypt Shawki Allam, to discuss the further strengthening of bilateral relations and the improvement of interparliamentary cooperation.
---
In the course of the meeting, also attended by the National Assembly Deputy Speaker Usame Zukorlic and the Head of the Parliamentary Friendship Group with the Republic of Egypt Dragan D. Markovic, the officials expressed the Serbian Assembly's readiness to contribute to the nurturing and strengthening of relations between the two countries, characterised by 115 years of tradition, friendship, as well as mutual respect and excellent cooperation between the Presidents of the Republic of Serbia and the Republic of Egypt, Aleksandar Vucic and Abdel Fattah el-Sisi.
The officials jointly declared el-Sisi's visit to Belgrade historic, expressing satisfaction with its results, especially the Joint Declaration on Strategic Partnership that was adopted on that occasion.
The National Assembly Speaker thanked Egypt for its understanding for the difficult situation in Kosovo-Metohija, informing him about the unilateral, dangerous moves of Albin Kurti and the terror which the Serbian people are exposed to. "Practically the whole world is saying that Kurti is solely responsible for this situation in the southern Serbian province, whom we are asking to withdraw his illegal forces and fake mayors from the north of Kosovo-Metohija and finally, after more than a decade of waiting, establish the Community of Serb Municipalities," said Dr Orlic and concluded: "It is important for us that everyone understands the gravity of the situation and support peace and stability with their authority, to which we remain committed, just as we remain committed to the further development of our country, cooperation in all areas of vital importance and dialogue as the only proper way to reach a sustainable solution", said Dr Orlic.
The Grand Mufti said that the two countries have excellent relations and that the Republic of Serbia can always count on Egypt's support in promoting peace and stability in the region. He used the opportunity to point out the importance of parliaments for preserving peace and religious principles, as well as for nurturing the most important social values and the importance of their promotion in the modern world.
---
Photo gallery
---
---
monday, 2 october
10.40 - the National Assembly Speaker's address at the event "Joy of Europe" (National Assembly House, 13 Nikola Pasic Square, Central Hall)

12.00 - continuation of the sitting of the Committee on the Economy, Regional Development, Trade, Tourism and Energy (National Assembly House, 13 Nikola Pasic Square, hall 2)

14.15 - the National Assembly Speaker meets with a delegation of rapporteurs of the Parliamentary Assembly of the Council of Europe Monitoring Committee (National Assembly House, 13 Nikola Pasic Square, hall 1)

16.00 - the heads of the parliamentary groups meet with the delegation of rapporteurs of the Parliamentary Assembly of the Council of Europe Monitoring Committee (National Assembly Building, 14 Kralja Milana Street, Blue Salon)

17.45 - the members of the Committee on Constitutional and Legislative Issues meet with the delegation of rapporteurs of the Parliamentary Assembly of the Council of Europe Monitoring Committee (National Assembly Building, 14 Kralja Milana Street, Blue Salon)