National Assembly of the Republic of Serbia / Activities / Activity details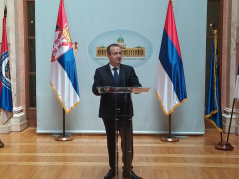 14 May 2022 National Assembly Speaker Ivica Dacic
Saturday, 14 May 2022
National Assembly Speaker at Opening of Exhibition on Special Police Units Day
The Speaker of the National Assembly of the Republic of Serbia Ivica Dacic addressed gathering in the National Assembly at the ceremonial opening of exhibition "Police Brigade SPU – Crowned by Glory" organised by the Association of Special Police Units Veterans to mark the 30th anniversary of the SMU-SPU.
---
THE FOLLOWING IS THE SPEECH OF THE SPEAKER OF THE NATIONAL ASSEMBLY OF THE REPUBLIC OF SERBIA IN ITS ENTIRETY:
"Ladies and gentlemen,
Dear friends,
Allow me to welcome you to the National Assembly, with a great deal of respect for your effort to mark three decades since the establishment of the Special Police Units with this special exhibition. I was very happy to accept your invitation to be your host today and take part in this ceremony.
As a former Minister of the Interior of the Republic of Serbia, I am well aware of the place and role of special police units in our security system and all the effort and sacrifice their members put into fulfilling the tasks entrusted to them by the people. But as a citizen and as patriot who has participated in important state affairs for the same 30 years, I have a great deal of respect for all the members of the MUP who were part of the special police units in that period.
This exhibition is just a small testimony to how far our special police officers have come, what challenges they faced and how much they have contributed to our Serbia today, strong and stable, and safe for every citizen at all times.
With this exhibition, the Association of Special Police Units Veterans reminds us that we owe them a debt and to their colleagues who have watched over our safety for years, exposing themselves to the greatest risks to their health and their lives. It is our duty to pay the greatest respect to these people and present them to our people, because it is time to know who sacrificed themselves for our security, at the most difficult times.
Special police units have played a huge role in the most difficult years for our people that this generation remembers. They were at the forefront of the struggle to defend the sovereignty of Serbia and the lives of our people in Kosovo-Metohija. We must never forget that. And today's gathering is the least we can do to preserve the memory of the police officers who gave their lives in that fight, and all those who were their comrades in those difficult moments.
We have no intention of waging war with anyone, we never have. But that does not mean that we will hide in a corner and allow anyone who decides to endanger our country and our people to do so. Serbia is a peaceful country, we are no danger to anyone. But do not take that as a weakness, on the contrary. This is our way of letting everyone know that we are strong and so loyal to our Serbia that we will always and at all times defend it if need be.
That is why we are here today. Let us remember all the members of the special police units who performed this most difficult and honourable duty, especially those who laid down the most valuable thing they had - their life.
I would like to thank the Association of Special Police Units Veterans for keeping the collective memory of everything they and their comrades have done for our country and our people alive. We will repay them with our respect and lasting memory, with this exhibition of ours today being just one of the ways to do so.
Thank you."
---
---
sunday, 2 april
No announcements for selected date