National Assembly of the Republic of Serbia / Activities / Activity details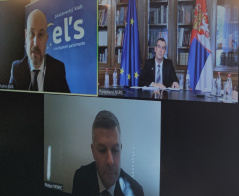 5 October 2022 National Assembly Speaker Dr Vladimir Orlic in meeting with the Members of the European Parliament
Wednesday, 5 October 2022
National Assembly Speaker Talks to MEPs
The Speaker of the National Assembly of the Republic of Serbia Dr Vladimir Orlic spoke today with the European Parliament's Standing Rapporteur for Serbia Vladimir Bilcik and member of the EP Delegation to the EU-Serbia Stabilisation and Association Parliamentary Committee Matjaz Nemec.
---
The officials discussed modalities for the continuation of the successful cooperation between the National Assembly and the European Parliament. They agreed that the parliamentary groups in the National Assembly, as well as the European Parliament, have a constructive approach to this topic.
Vladimir Bilcik and Matjaz Nemec also gave a positive assessment of last week's visit to Belgrade and the talks they had on the occasion.
---
---
thursday, 8 december
8.30 - the National Assembly Speaker meets with the Chairperson of the Standing Committee of the Council of the Republic of Belarus for Economy, Budget and Finances and the Ambassador of Belarus in Serbia (National Assembly House, 13 Nikola Pasic Square, hall 1)

10.00 - continuation of the Third Sitting of the Second Regular Session of the National Assembly of the Republic of Serbia in 2022 (National Assembly House, 13 Nikola Pasic Square)

11.00 - press conference of the HOPE – NEW DSS – POKS Parliamentary Group (National Assembly House, 13 Nikola Pasic Square, Central Hall)

12.00 - sitting of the Subcommittee on Sports (National Assembly House, 13 Nikola Pasic Square, hall 3)

12.00 - National Assembly Speaker and PABSEC President Dr Vladimir Orlic to address PABSEC General Assembly Spring Session (Hilton Hotel, 35 Kralja Milana Street)

12.00 - sitting of the Committee on Administrative, Budgetary, Mandate and Immunity Issues (National Assembly House, 13 Nikola Pasic Square, hall 2)

13.00 - ceremonial welcome of the Speaker of the Grand National Assembly of the Republic of Turkey (National Assembly House, 13 Nikola Pasic Square, Central Hall)

13.05 - the National Assembly Speaker meets with the Speaker of the Grand National Assembly of the Republic of Turkey (National Assembly House, 13 Nikola Pasic Square, hall 1)

13.40 - press conference of the National Assembly Speaker and Speaker of the Grand National Assembly of the Republic of Turkey (National Assembly House, 13 Nikola Pasic Square, Central Hall)

14.15 - press conference of MPs Janko Veselinovic, Anna Oreg, Danijela Grujic, Borislav Novakovic, Jelena Kalajdzic and Dragana Rakic (National Assembly House, 13 Nikola Pasic Square, Central Hall)

15.00 - sitting of the European Integration Committee (National Assembly House, 13 Nikola Pasic Square, hall 2)

15.00 - the PFG with Belarus meets with the delegation of the Council of the Republic of the National Assembly of the Republic of Belarus (National Assembly House, 13 Nikola Pasic Square, hall 3)

15.30 - sitting of the Committee on Administrative, Budgetary, Mandate and Immunity Issues (National Assembly House, 13 Nikola Pasic Square, hall 2)