National Assembly of the Republic of Serbia / Activities / Activity details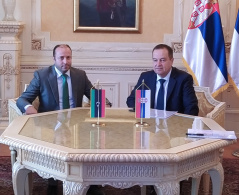 19 May 2022 National Assembly Speaker Ivica Dacic in meeting with the Ambassador of the State of Libya Mohamed Ghalboun
Thursday, 19 May 2022
National Assembly Speaker Receives Libyan Ambassador to Serbia
The Speaker of the National Assembly of the Republic of Serbia Ivica Dacic received the Ambassador of the State of Libya Mohamed Ghalboun in a courtesy visit.
---
National Assembly Speaker Ivica Dacic said that the two countries share a decades long friendship dating back to 1955, when diplomatic relations were established with Libya, making it one of former Yugoslavia and Serbia's most important Arab partners, based on constriction, health and military industry. The Assembly Speaker said that that is why Serbia is closely following the developments in Libya, hoping that stability, unity and peace prevail so that we could focus our efforts on expanding economic exchange and cooperation across all areas of social life.
Ambassador Ghalboun said that, during his mandate as ambassador he would focus on bringing the relations between Serbia and Libya back to their former heights and advancing them further. He stressed that, the internal situation in the country notwithstanding, Libya is a peace loving country, ready and open for cooperation in various areas.
---
Photo gallery
---
---
monday, 4 july
No announcements for selected date