National Assembly of the Republic of Serbia / Activities / Activity details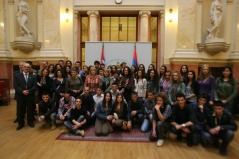 9 March 2012 National Assembly Speaker Prof. Dr Slavica Djukic Dejanovic meets with the youth of Novi Pazar
Friday, 9 March 2012
National Assembly Speaker Meets with Young People from Novi Pazar
The Speaker of the National Assembly of the Republic of Serbia, Prof. Dr Slavica Djukic Dejanovic received a group of young people from Novi Pazar, welcomed them to the house of all citizens, the National Assembly House, and advised them to nurture the system of values and build bridges between the East and West.
---
Slavica Djukic Dejanovic said that the youth of Novi Pazar bear a special cultural wealth adding that she hoped at least some of them would become members of parliament in future and people their town would be known for.
The visit of the youth of Novi Pazar was organised by "Urban-in" NGO with the idea of promoting intercultural common life of members of various religions and nations in Novi Pazar by exposing the youth to the highest state and cultural institutions and enabling them to speak with their representatives. The National Assembly Speaker thanked the President of the "Urban-in" NGO Aida Corovic for her enthusiasm and the ideas she cultivates.

---
---
| M | T | W | T | F | S | S |
| --- | --- | --- | --- | --- | --- | --- |
| 28 | 29 | 30 | 1 | 2 | 3 | 4 |
| 5 | 6 | 7 | 8 | 9 | 10 | 11 |
| 12 | 13 | 14 | 15 | 16 | 17 | 18 |
| 19 | 20 | 21 | 22 | 23 | 24 | 25 |
| 26 | 27 | 28 | 29 | 30 | 31 | 1 |
thursday, 1 october
No announcements for selected date