National Assembly of the Republic of Serbia / Activities / Activity details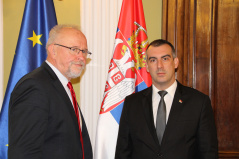 2 October 2023 The National Assembly Speaker and the rapporteur of the Parliamentary Assembly of the Council of Europe Monitoring Committee
Monday, 2 October 2023
National Assembly Speaker Meets with PACE Monitoring Committee Delegation
The Speaker of the National Assembly of the Republic of Serbia Dr Vladimir Orlic met today with the rapporteur of the Monitoring Committee of the Parliamentary Assembly of the Council of Europe (PACE), Axel Schafer and expressed his commitment to further cooperation.
---
In the course of the meeting, Dr Orlic outlined the overall progress the Republic of Serbia achieved in numerous areas, especially democratic standards, rule of law, human and minority rights.
He informed the guest about the successfully completed reform of the judiciary, launched with last year's change of the Constitution, and the preparation of a whole set of laws in direct cooperation with the Venice Commission, as well as their adoption. He emphasised that this process was transparent and inclusive, ensuring the independence and autonomy of judges and prosecutors at the highest level since the introduction of multi-party system in Serbia. "The relevant EU evaluations for chapters 23 and 24, which deal with fundamental rights and combating corruption, say that Serbia has made progress," said Dr Orlic. He stressed that the same applies to the safety of journalists, work of the parliament, as well as meeting of ODIHR recommendations and other proposals of political parties through inter-party dialogue. "All these are areas in which we have made progress, enabled more freedom and democracy than ever before," said the National Assembly Speaker.
Speaking of the dialogue between Belgrade and Pristina, Dr Orlic informed Schafer about the daily terror, violence and threats to the security of the Serbian people in Kosovo-Metohija, Pristina's unacceptable attitude towards the previously signed agreements, flagrant attempts to provoke escalation and destroy any dialogue. "The situation in Kosovo-Metohija is extremely difficult and it is solely the fault of Albin Kurti. It would be absurd if, after everything he does, so-called "Kosovo" were also rewarded with membership in the Council of Europe. It is not just Serbia that says that, many others in Europe say the same," said Dr Orlic, adding that Serbia's position is clear and repeatedly voiced by the President of the Republic Aleksandar Vucic - dialogue is the only correct way to reach any sustainable solution, unlike Kurti, we want peace.
Rapporteur Schafer and representatives of the PACE Secretariat are on a monitoring mission and will meet with the National Assembly's delegation to the PACE, parliamentary groups and members of the Committee on Constitutional and Legislative Issues.
---
Photo gallery
---
---
| M | T | W | T | F | S | S |
| --- | --- | --- | --- | --- | --- | --- |
| 27 | 28 | 29 | 30 | 1 | 2 | 3 |
| 4 | 5 | 6 | 7 | 8 | 9 | 10 |
| 11 | 12 | 13 | 14 | 15 | 16 | 17 |
| 18 | 19 | 20 | 21 | 22 | 23 | 24 |
| 25 | 26 | 27 | 28 | 29 | 30 | 31 |
sunday, 3 december
No announcements for selected date