National Assembly of the Republic of Serbia / Activities / Activity details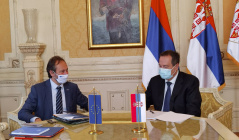 15 September 2021 The National Assembly Speaker in meeting with the newly-appointed Head of the EU Delegation to Serbia
Wednesday, 15 September 2021
National Assembly Speaker Meets with Newly-Appointed EU Ambassador to Serbia
The Speaker of the National Assembly of the Republic of Serbia Ivica Dacic received today the newly-appointed Head of the European Union Delegation to Serbia Emanuele Giaufret.
---
At the beginning of the meeting, the Assembly Speaker expressed his most heartfelt congratulations and wished Ambassador Giaufret a successful term of office, adding that he expected a continuation of the successful cooperation with the EU Delegation in Belgrade.
He stressed that Serbia is ready in every sense to continue its full cooperation with the EU, its institutions and member states, as well as to work hard to promote and speed up the negotiation process, since EU membership is the country's most important foreign policy priority and strategic commitment.
The officials discussed the continuation of the second phase of the inter-party dialogue planned for 17-18 September, hoping that the representatives of the ruling majority and the opposition would reach compromise solutions through the upcoming negotiations which would improve the election process. Ambassador Giaufret stressed that the EU delegation in Belgrade would do everything in their power to help the dialogue process as well as the implementation of everything agreed.
Responding to Head of the EU Delegation Emanuele Giaufret's question, National Assembly Speaker Ivica Dacic outlined the Constitution amendment procedure in the part concerning the judiciary and the election of judges, explaining that it is a complex process. The National Assembly Speaker added that the opinion of the Venice Commission on the proposed constitutional amendments plays a very important role in the continuation of the process, which is why the Commission is planning to send a delegation to Belgrade at the end of September.
At the end of the meeting, National Assembly Speaker Ivica Dacic welcomed Ambassador Giaufret once again, pointing out that the EU Delegation in Belgrade is a partner to the Serbian Parliament and that he hoped to continue with their constructive cooperation.
---
Photo gallery
---
---
saturday, 16 october
No announcements for selected date