National Assembly of the Republic of Serbia / Activities / Activity details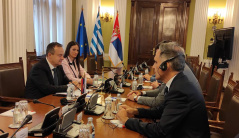 20 May 2022 The Speaker of the National Assembly of the Republic of Serbia in meeting with the Greek Minister of Tourism
Friday, 20 May 2022
National Assembly Speaker Meets with Greek Minister of Tourism
The Speaker of the National Assembly of the Republic of Serbia Ivica Dacic met with the Greek Minister of Tourism Vassilis Kikilias, currently in official visit to Belgrade.
---
The National Assembly Speaker expressed satisfaction with the constant improvement of political dialogue and overall cooperation between Serbia and Greece. Assembly Speaker Dacic also said that he was ready to contribute to the further development of bilateral relations, stressing that Serbia is interested in expanding and deepening economic cooperation and trade with Greece. As areas of substantial yet underused potential, he underlined food production, joint transport and energy infrastructure projects, development of small and medium-sized enterprises and tourism, a field of particular importance as over 50% of Serbian tourists spend their summer vacation in Greece.
Greek Minister of Tourism Vassilis Kikilias was grateful for the hospitality and opportunity to visit Serbia. He stressed that the Greek people and government remain committed to preserving and strengthening the traditional friendship with Serbia, adding that Greece is interested in advancing tourism cooperation, especially in the coming season since the tourist trade had been paltry in the previous ones due to the pandemic. He said that the Serbian citizens no longer needed vaccination certificates, PCR tests and PLF forms to enter Greece and that the country expected about 900,000 Serbian tourists this season. Kikilias also said that he was currently talking with private mobile operators about their cancelling or decreasing roaming tariffs for Serbian tourists, as well as with both countries' national airlines about instating more regular and charter flights.
---
Photo gallery
---
---
monday, 4 july
No announcements for selected date