National Assembly of the Republic of Serbia / Activities / Activity details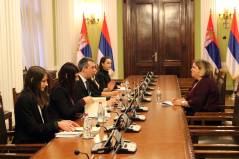 31 January 2023 The National Assembly Speaker in meeting with the Greek Ambassador to Serbia
Tuesday, 31 January 2023
National Assembly Speaker Meets with Greek Ambassador to Serbia
"The bilateral relations between the Republic of Serbia and the Republic of Greece are grounded in true friendship and mutual support" was the message of today's meeting between the Speaker of the National Assembly of the Republic of Serbia Dr Vladimir Orlic and Greek Ambassador to Serbia Maria Levanti.
---
The officials noted that the intensive political dialogue was promoted by the exchange of visits between the two countries' dignitaries, especially the visit of Serbian President Aleksandar Vucic to Athens and his meeting with Greek Prime Minister Kyriakos Mitsotakis.
Ambassador Levanti affirmed that the Greek position of respecting Serbia's sovereignty and territorial integrity would not change and that the country continues to support the dialogue between Belgrade and Pristina. Dr Orlic said that, despite Pristina's irrational behaviour, Belgrade remains firmly committed to the policy of peace, stability and dialogue. "We deeply appreciate the Greek position to remain consistent in its non-recognition of so-called "Kosovo". The safety of the Serbian people in Kosovo-Metohija and the establishment of the Community of Serb Municipalities are vital issues for which we expect everybody's support", said the Speaker of the National Assembly of the Republic of Serbia.
Dr Orlic and Ambassador Levanti agreed that promoting ties between the two parliaments' friendship groups, and especially an exchange of visits at all levels, would greatly contribute to interparliamentary cooperation.
The officials expressed readiness to transpose the politically good relations between the two states into stronger economic cooperation, primarily in the area of trade and energy. The Ambassador relayed the Greek investors' satisfaction with their business dealings in Serbia, highlighting their interest to continue to invest into the country.
---
Photo gallery
---
---
wednesday, 22 march
10.00 - National Assembly Deputy Speaker Elvira Kovacs meets with Hungarian Ambassador to Serbia Jozsef Magyar (National Assembly House, 13 Nikola Pasic Square, hall 3)

11.00 - National Assembly Deputy Speaker Elvira Kovacs speaks at the meeting of the project board of UNDP project "Strengthening Parliamentary Democracy and Inclusive Political Dialogue – Phase Three" (National Assembly House, 13 Nikola Pasic Square, hall 2)

12.00 - sitting of the Foreign Affairs Committee (National Assembly House, 13 Nikola Pasic Square, hall 3)