National Assembly of the Republic of Serbia / Activities / Activity details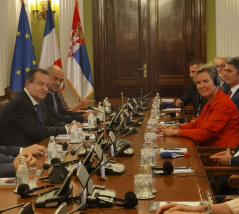 15 September 2021 The National Assembly Speaker meets with the France-Western Balkans Friendship Group
Wednesday, 15 September 2021
National Assembly Speaker Meets with France-Western Balkans Friendship Group
Today, National Assembly Speaker Ivica Dacic received the French Senate's France-Western Balkans Friendship Group headed by Senator Marta de Cidrac.
---
National Assembly Speaker Ivica Dacic welcomed the French colleagues and expressed hope that all their previous meetings with Serbian officials were successful. He emphasised the importance of direct contacts, especially in view of the enduring friendship that has connected the two nations since World War I.

The head of the Serbian Parliament underlined Serbia's determination to develop cooperation with France at all levels, especially since the two countries have signed a Strategic Partnership Agreement.

Speaking about parliamentary diplomacy, Parliament Speaker Dacic reminded the guests of the many mutual visits in the past two years, adding that the Parliamentary Friendship Group with France boats 91 members from different political parties. He expressed satisfaction with the development of cooperation, but opined that it could be further improved by an exchange of parliamentary visits at the highest level. Therefore, he took the opportunity to extend an invitation to the presidents of the French National Assembly and Senate, at the same time expressing his own readiness to visit France in person.


Greeting her hosts, Marta de Cidrac, senator and head of the regional friendship group for the Western Balkans, expressed satisfaction with the visit to the National Assembly of the Republic of Serbia.

She said that the visit to Serbia was realised under the auspices of the visit to the countries of the Western Balkans which aspire to join the European Union. She informed the attending that the Regional Friendship Group for the Western Balkans has delegated presidents for each country in the region.

Senator De Cidrac said she was satisfied with all the meetings she has had during the visit, as well as with the opportunity for the French parliamentarians to learn more about Serbia's European integration process, constitutional reforms, judiciary reforms and the process of inter-party dialogue. She added that she would convey the invitations extended to the presidents of both houses of the French Parliament, with the hope that the visit of a Serbian delegation to Paris would be realised soon.

---
---
friday, 15 october
No announcements for selected date