National Assembly of the Republic of Serbia / Activities / Activity details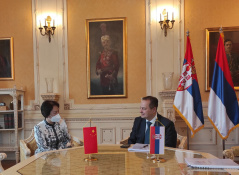 28 July 2022 National Assembly Speaker Ivica Dacic in meeting with the Ambassador of the People's Republic of China to Serbia H.E. Chen Bo
Thursday, 28 July 2022
National Assembly Speaker Meets with Chinese Ambassador to Serbia
The Speaker of the National Assembly of the Republic of Serbia Ivica Dacic met today with the Ambassador of the People's Republic of China to Serbia H.E. Chen Bo to discuss the bilateral relations and strategic cooperation between the two countries.
---
Assembly Speaker Ivica Dacic pointed out that, in addition to the all-around intensive political dialogue, Serbia is also very satisfied with the level of parliamentary cooperation between the two countries in the previous period. He also expressed hope that the new parliament legislature, to be constituted on Monday, 1 August, would continue to work in the same spirit. Dacic went on to mention the 12th legislature's 122 strong Parliamentary Friendship Group with the People's Republic of China, expressing confidence that the formation of a new friendship group and improvement of cooperation with China would be a priority for the next legislature as well.
Ambassador Chen Bo said she believed the bilateral relations to be at a historical peak, with the Chinese side viewing them as "timeless relations of steel friendship". Adding there are no open issues in the political relations, the Ambassador opined that the relations between the two countries are characterised by a high degree of mutual trust and support in the most important issues.
The officials agreed to continue the successful cooperation after the formation of new state bodies of the Republic of Serbia.
---
Photo gallery
---
---