National Assembly of the Republic of Serbia / Activities / Activity details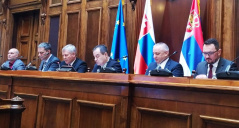 3 March 2022 The National Assembly Speaker at the International Scientific Conference on Serbian-Slovak relations
Thursday, 3 March 2022
National Assembly Speaker Ivica Dacic at International Scientific Conference on Serbian-Slovak Relations
The Speaker of the National Assembly of the Republic of Serbia Ivica Dacic spoke at the International Scientific Conference on Serbian-Slovak relations.
---
THE FOLLOWING IS THE SPEECH OF THE SPEAKER OF THE NATIONAL ASSEMBLY OF THE REPUBLIC OF SERBIA IN ITS ENTIRETY:
"Ladies and gentlemen,
Dear friends,
I wish you a warm welcome to the National Assembly and would like to I thank Professor Tanaskovic and his colleagues for the initiative to organise this scientific conference dedicated to the relations between Serbia and Slovakia. Thanks to your work, we have the good fortune to get a more thorough and detailed picture of the overall relations between our two countries and our peoples, although from the get-go we can safely declare these relations to be that of a true friendship.
Serbia and Slovakia have a hundred-year tradition of inter-state, diplomatic relations, established in 1918, when both were part of larger inter-state alliances, but our strong ties date back to the distant past. In that long historical period, there have been no instances of conflict or disagreements between our two peoples, only examples of cooperation, mutual respect and constant support. This historical closeness is a huge capital for the future development and nurturing of our relations because there are few people in our area who have a common past they can only be proud of.
Today's Serbia sees modern Slovakia as one of its greatest and most important friends and partners among the members of the European Union and I know very well that Slovakia also sees Serbia as a key partner in the Balkans and Southeast Europe in general. Even before, as Prime Minister, Minister of the Interior and especially Minister of Foreign Affairs, and now as the Speaker of Parliament, I have always seen cooperation with the leadership of the Slovak Republic as meetings with sincere friends, with whom I can share satisfaction and concern, and expect as well as give support.
Serbia is very grateful to the Slovak Republic for its principled position of not recognising the independence of Kosovo and showing in action its commitment to preserving our sovereignty, as well as its commitment to respecting international law. As one of the five members of the European Union which have not recognised Kosovo as a state, Slovakia is a great ally in our efforts to have a dialogue on this, the most important state and national issue, and seek a compromise solution that will ensure peace, stability and prosperity in the Balkans.
That is the only way to reach the right decisions, Slovakia knows that well, and not only that, it actively participates in it as a member of the EU and NATO, as well as through the participation of its diplomats in that process. It is from this principled position, that Slovakia's principled stance that Kosovo cannot become a member of certain important international organisations, such as Interpol and UNESCO, stems from, because that would be a violation of the fundamental documents of those organisations and the United Nations.
I am sure that this conference will also touch on the position of minority national communities - Slovaks in Serbia and Serbs in Slovakia, as valuable bridges of cooperation which we must continue to jealously guard and help in every way we can their mission to preserve national identity in the states they are citizens of. If it is rightly said that minorities are the wealth of Europe, then Slovaks in Serbia and Serbs in Slovakia are the most valuable part of that wealth. We will also talk about our cooperation in multilateral forums, about our responses to modern political and security challenges, and, of course, about boosting economic and technological ties, which we must pay special attention to. All of these topics are extremely important for our overall relations and that is why I rightly expect from you, as representatives of the scientific community of both countries, new ideas and new directions for the development of our cooperation, while we as representatives of state institutions would listen carefully to what you have to say and do our best to bring your good advice to life.
I wish you successful efforts in the conference and let me once again welcome you to the National Assembly, Serbia and Belgrade.
Thank you!"
---
Photo gallery
---
---
monday, 15 august
11.00 - press conference of MP MA Ivan Kostic (National Assembly House, 13 Nikola Pasic Square, Central Hall)