National Assembly of the Republic of Serbia / Activities / Activity details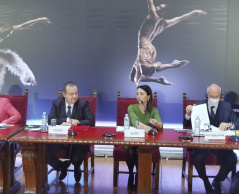 3 March 2022 The National Assembly Speaker at the 19th Belgrade Dance Festival press conference
Thursday, 3 March 2022
National Assembly Speaker Ivica Dacic at 19th Belgrade Dance Festival Press Conference
The Speaker of the National Assembly of the Republic of Serbia Ivica Dacic spoke at the press conference of the 19th Belgrade Dance Festival.
---
THE FOLLOWING IS THE SPEECH OF THE SPEAKER OF THE NATIONAL ASSEMBLY OF THE REPUBLIC OF SERBIA IN ITS ENTIRETY:
"Dear Mrs. Gojkovic,
Your Excellencies,
Dear Ms. Jung,
Dear friends,
It is a great honour for me to once again play host for the Belgrade Dance Festival on behalf of the National Assembly and I must admit that it is the best part of this job. I would like to welcome you to the National Assembly where we will announce the beginning of the Belgrade Dance Festival, currently in its 19th year.
Once again, Serbia will be the meeting place for a large number of art troupes and dancers from 12 countries, arriving with a series of new choreographies, and, as in previous years, the Festival will also feature film revues, exhibitions and workshops. The Belgrade festival of artistic dance has become an inseparable part not only of our cultural scene, but of the European and world art scene as well, it is an event expected to set new trends and present new productions and authors.
I would like today's presentation to show at least a little that the Belgrade Dance Festival enjoys a great support from Serbia's entire cultural and artistic scene, as well as our institutions - the Parliament, Ministry of Culture and the cities of Belgrade and Novi Sad. The Dance Festival deserves it because in all the past years, thanks to the vision and perseverance of the people behind it, it has rightfully gained the reputation of one of the most respected cultural events in this part of Europe.
We are proud of the Belgrade Dance Festival and every year we welcome guests from all over the world with great joy, because we know that they will make the most of their creativity and artistic talent here, because they know that the eyes of the world are on Belgrade and its festival. This time of year is the time to renew friendships, unfortunately still under pandemic restrictions, but with no less excitement and artistic energy than before.
Let me extend a warm welcome to Serbia the guests and participants of the Belgrade Dance Festival, I hope you feel at home, like on your own stage. I would like to congratulate all those who organised and supported the Belgrade Dance Festival on a work well done, leading to the beginning of the 19th year of the art of dance in our cities and in our country.
Thank you!"
---
Photo gallery
---
---