National Assembly of the Republic of Serbia / Activities / Activity details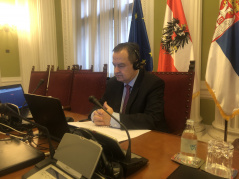 22 January 2021 Speaker of the National Assembly of the Republic of Serbia Ivica Dacic
Friday, 22 January 2021
National Assembly Speaker Ivica Dacic Talks to Austrian Parliament Speaker Wolfgang Sobotka via Video Link
The Speaker of the National Assembly of the Republic of Serbia Ivica Dacic had a video conference with the President of the Austrian National Council Wolfgang Sobotka today.
---
National Assembly Speaker Ivica Dacic opined that the relations between Serbia and Austria are friendly and pointed out that strengthening parliamentary cooperation could add another quality to the high level of bilateral relations between the two countries. The National Assembly Speaker once again thanked Austria for the help sent to Serbia and the countries in the region, through its Development Agency, during the pandemic.
The speakers of the two parliaments, I. Dacic and W. Sobotka, discussed the current situation and the measures undertaken by Serbia and Austria to tackle the health and economic crisis caused by the coronavirus pandemic. They exchanged experiences relating to the work of the parliaments in the extraordinary circumstances caused by the pandemic. Speaking about the course of the vaccination process in Austria, W. Sobotka expressed hope that the supply of vaccines would soon be stabilized in the EU member states and a certain amount of vaccines would be delivered to the Western Balkan countries, so that Europe can show its solidarity with the countries in the region.
The officials exchanged views on the current situation in the region and the world, with a special focus on the fight against terrorism and radical extremism, concluding that a joint response is the only way to protect the basic values of the modern civilized world.
The two parliament speakers concluded that the bilateral cooperation between Serbia and Austria is very developed and expressed readiness to continue, as before, to work on improving relations.
The Austrian Parliament Speaker invited the National Assembly Speaker to visit Austria, which he gladly accepted. Sobotka also invited National Assembly Speaker I. Dacic to take part in the 5th World Conference of the Speakers of the Parliament of the Inter-Parliamentary Union Member States, to be held in Vienna in the second half of the year.
---
---