National Assembly of the Republic of Serbia / Activities / Activity details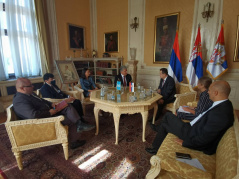 3 September 2021 National Assembly Speaker Ivica Dacic in meeting with the UN Assistant Secretary-General for Europe, Central Asia and the Americas Miroslav Jenca
Friday, 3 September 2021
National Assembly Speaker Ivica Dacic Meets with UN Assistant Secretary-General for Europe, Central Asia and Americas Miroslav Jenca
The National Assembly Speaker stressed that Serbia considers the UN the most significant international organisation of special importance for the protection of the country's sovereignty and territorial integrity, adding that the work of the UN Office is of exceptional importance for Serbia as it is the main channel of communication with the UN Mission in Kosovo-Metohija (UNMIK).
---
UN Assistant Secretary-General Jenca thanked the Speaker for the hospitality, underlining the UN's excellent cooperation with Serbia across the board. He especially stressed that even in the conditions caused by the COVID-19 pandemic Serbia continues to advance its cooperation with the UN, among other things in the field of multinational operations, thanks to which it contributes to keeping international peace and security.
Answering the UN Assistant Secretary-General's questions about the Belgrade-Pristina dialogue, National Assembly Speaker Ivica Dacic said that Belgrade is genuinely dedicated to finding a compromise solution and that dialogue is the only way to do it.
In the course of the meeting, the Serbian Parliament Speaker reaffirmed that EU accession is the country's strategic commitment, adding that he expected the negotiation dynamics to pick up pace since Serbia is conducting important reforms and achieving significant results. He also said he hoped the enlargement process would not be sidelined and that it would run parallel with the EU reform process.
---
Photo gallery
---
---
| M | T | W | T | F | S | S |
| --- | --- | --- | --- | --- | --- | --- |
| 27 | 28 | 29 | 30 | 1 | 2 | 3 |
| 4 | 5 | 6 | 7 | 8 | 9 | 10 |
| 11 | 12 | 13 | 14 | 15 | 16 | 17 |
| 18 | 19 | 20 | 21 | 22 | 23 | 24 |
| 25 | 26 | 27 | 28 | 29 | 30 | 31 |
friday, 1 july
No announcements for selected date