National Assembly of the Republic of Serbia / Activities / Activity details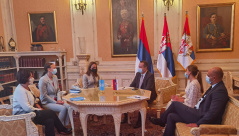 30 September 2021 National Assembly Speaker Ivica Dacic in meeting with the Director of the UNICEF Office in Belgrade
Thursday, 30 September 2021
National Assembly Speaker Ivica Dacic Meets with UNICEF Serbia Director
The Speaker of the National Assembly of the Republic of Serbia Ivica Dacic met with the Director of the UNICEF Serbia Office Deyana Kostadinova today.
---
The Assembly Speaker took the opportunity to thank UNICEF for its engagement and activities concerning the protection of the rights and improvement of the position of children in Serbia, stressing that Serbia sees UNICEF as one of its most important partners in terms of achieving international child rights standards and realisation of humanitarian aid for children. Ivica Dacic said that, as a state, we would continue to contribute to the realisation of UNICEF's global mission, as well as to the realisation of the set goals and projects in the Republic of Serbia.

Director Kostadinova said that the cooperation between UNICEF and Serbian institutions is at an enviable level, underlining that UNICEF implements its activities in Serbia based on the cooperation program harmonised with the country's competent institutions, as well as on UNICEF's 2021-2025 five-year Action Plan for Serbia. She said that a lot had been done during the first nine months of the implementation of this Plan, including projects dedicated to bridging the digital divide in Serbia, inclusive education, social protection in the care of children with disabilities and helping mitigate the impact of the COVID-19 pandemic.

Assembly Speaker Dacic stressed that as the Chairman of the Committee on the Rights of the Child in the National Assembly of the Republic of Serbia, he monitors the work of UNICEF and its cooperation with various institutions and on various projects. One of the projects supported by the National Assembly's Committee on the Rights of the Child is Children's Week, to be held next week, at the initiative of the Ministry of Family Welfare and Demography and the organisation Friends of the Children of Serbia. Dacic underlined that he would personally take part in the opening of Children's Week, as well as in the programme itself viz. he would open the student parliaments' session.

Deyana Kostadinova stressed that UNICEF is prepared to improve its cooperation with the Committee on the Rights of the Child and that it would continue to provide support to the Serbian institutions as regards improving the rights and position of the youngest population.


---
---
friday, 3 december
10.30 - sitting of the European Integration Committee (National Assembly House, 13 Nikola Pasic Square, hall 3)

11.00 - sitting of the Committee on the Economy, Regional Development, Trade, Tourism and Energy (National Assembly House, 13 Nikola Pasic Square, hall 2)

11.00 - public hearing on: "Implementation of the United Nations Climate Change Conference - COP 26 Agreement in Serbia" (National Assembly House, 13 Nikola Pasic Square, Small Hall)

11.00 - the National Assembly Speaker addresses the public hearing on: "Implementation of the United Nations Climate Change Conference - COP26 Agreement in Serbia" (National Assembly House, 13 Nikola Pasic Square, Small Hall)