National Assembly of the Republic of Serbia / Activities / Activity details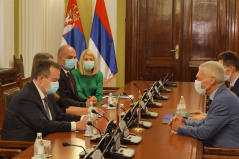 26 October 2020 National Assembly Speaker Ivica Dacic with Russian Ambassador to Serbia Alexander Botsan-Kharchenko
Monday, 26 October 2020
National Assembly Speaker Ivica Dacic Meets with Russian Ambassador to Serbia Alexander Botsan-Kharchenko
The Speaker of the National Assembly of the Republic of Serbia Ivica Dacic met with Russian Ambassador to Serbia Alexander Botsan-Kharchenko.
---
Ambassador Botsan-Kharchenko congratulated Dacic on taking up his new position and wished him success in this responsible new post. He thanked him for the excellent cooperation they enjoyed in the course of Mr. Dacic's time in the previous post hoping that it would continue in the same vein.

The Ambassador of the Russian Federation handed National Assembly Speaker Ivica Dacic a letter from the Russian Minister of Foreign Affairs Sergey Lavrov congratulating him on the appointment to the new post and stating that they have achieved a lot during their years of cooperation as heads of the foreign policy sector.

Minister Lavrov thanked Mr. Dacic for the work they did together and expressed expectations that the National Assembly Speaker would use his rich experience and knowledge to protect the interests and reputation of Serbia and strongly contribute to the strengthening of parliamentary cooperation between Serbia and Russia.

During the conversation, the National Assembly Speaker and the Russian also talked about the preparatory activities for the upcoming visit of the Russian Minister of Foreign Affairs, Sergey Lavrov, to Belgrade.


---
Photo gallery
---
---