National Assembly of the Republic of Serbia / Activities / Activity details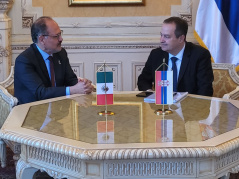 11 May 2022 The National Assembly Speaker in meeting with the Mexican Ambassador to Serbia
Wednesday, 11 May 2022
National Assembly Speaker Ivica Dacic Meets with Mexican Ambassador to Serbia
The Speaker of the National Assembly of the Republic of Serbia Ivica Dacic met today with the Ambassador of the United Mexican States Carlos Felix Corona.
---
The Assembly Speaker said that Serbia and Mexico enjoy a friendly relationship, with no outstanding issues, stressing that geographical distance has never been an obstacle to the close cooperation between the two countries and reminded his guest that Serbia could always count on Mexico's support in the international arena. He also thanked Mexico for its principles position on the Kosovo-Metohija issue.
The officials agreed that in their 76 years of diplomatic relations, Mexico and Serbia have developed firm bilateral relations and friendly ties between the two peoples, ones that withstood all challenges even in the worst of times, adding that they should be advanced by promoting a close relationship between the two parliaments and their respective friendship groups, the formation of which would be a priority for Serbia's new parliamentary legislature.
Ambassador Felix thanked the National Assembly Speaker for the efforts he invested into strengthening relations between Serbia and Mexico, hoping that the cooperation would continue after the formation of state bodies following the recent elections. He stressed that Mexico respects Serbia's territorial integrity and sovereignty, in line with UNSC Resolution 1244. He opined that an exchange of parliamentary visits is key for the development of better contacts between the MPs, hoping that the President of the Mexican Congress Chamber of Deputies Sergio Gutierrez would soon visit Serbia.
---
Photo gallery
---
---
monday, 15 august
11.00 - press conference of MP MA Ivan Kostic (National Assembly House, 13 Nikola Pasic Square, Central Hall)