National Assembly of the Republic of Serbia / Activities / Activity details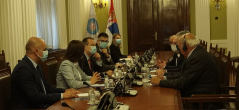 14 June 2021 National Assembly Speaker Ivica Dacic with the Secretary General and the President of the Interparliamentary Assembly on Orthodoxy
Monday, 14 June 2021
National Assembly Speaker Ivica Dacic Meets with IAO Secretary General and President
The Speaker of the National Assembly of the Republic of Serbia Ivica Dacic met today with the Secretary General of the Interparliamentary Assembly on Orthodoxy Maximos Charakopoulos and the President of the Interparliamentary Assembly on Orthodoxy Sergei Gavrilov
---
The National Assembly Speaker said he was very pleased that the International Secretariat of the Interparliamentary Assembly on Orthodoxy is having a meeting in the Serbian National Assembly, stressing that the country highly values the IAO's activities, especially the promotion of moral values through democratic institutions and by fostering communication and cooperation networks between parliaments.
The National Assembly Speaker talked about the endangerment of Christian churches in Kosovo-Metohija, discrimination against the Orthodox Christian population on religious grounds and the attempt to erase and change the Serbian identity, history, character and Christian culture in Kosovo-Metohija.
IAO Secretary General Maximos Charakopoulos said that the goal of the Interparliamentary Assembly on Orthodoxy is to protect cultural heritage and promote Christian values, and so it fully understands and shares the concern for Orthodox heritage in Kosovo-Metohija. He went on to brief his host on the initiatives Interparliamentary Assembly on Orthodoxy plans to launch in connection with Hagia Sophia.
The President of the Interparliamentary Assembly on Orthodoxy Sergei Gavrilov expressed concern over the threat to the Christian heritage in Kosovo-Metohija and spoke about the very difficult situation in which Christians find themselves in the Middle East.
At the end of the meeting, the National Assembly Speaker reiterated our delegation's readiness for full cooperation and active engagement in the work of the Interparliamentary Assembly on Orthodoxy.
---
---
friday, 19 august
11.00 - press conference of MPs Prf Dr Tamara Milenkovic Kerkovic and Radmila Vasic (National Assembly House, 13 Nikola Pasic Square, Central Hall)