National Assembly of the Republic of Serbia / Activities / Activity details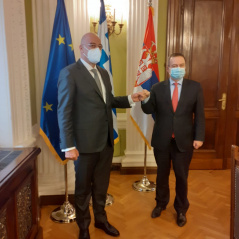 5 April 2021 National Assembly Speaker Ivica Dacic, with the Minister of Foreign Affairs of Greece
Monday, 5 April 2021
National Assembly Speaker Ivica Dacic Meets with Greek Foreign Minister
The Speaker of the National Assembly of the Republic of Serbia Ivica Dacic met today with the Minister of Foreign Affairs of the Republic of Greece Nikos Dendias, currently visiting Serbia.
---
National Assembly Speaker Ivica Dacic expressed satisfaction with the meeting with his former colleague Nikos Dendias and highlighted the importance of today's trilateral meeting of the Ministers of Foreign Affairs of Serbia, Greece and Cyprus, as well as the agreement to make this a regular practice.
Regarding the relations between Serbia and Greece, the National Assembly Speaker said that they are traditionally friendly, stressing that bilateral cooperation has reached the highest level of strategic partnership and that close cooperation has been achieved across the board. He expressed readiness to continue contributing to the improvement of cooperation in the field of parliamentary diplomacy as the Speaker of the National Assembly. He declared the cooperation between the two parliaments very good, reminding the guest that a parliamentary friendship group with Greece was formed in the National Assembly immediately after its constitution. The Memorandum on the establishment of the National Assembly of the Republic of Serbia - Hellenic Parliament Cooperation Commission signed in 2017 provides a solid basis for parliamentary cooperation.
Minister Dendias expressed satisfaction with the meeting with his long-term colleague, with whom he had the opportunity to cooperate as Minister of Foreign Affairs and Minister of the Interior. Today's trilateral meeting of the Foreign Ministers of Serbia, Greece and Cyprus was declared very useful for the further improvement of cooperation between the three countries.
The officials exchanged opinions on Serbia's European integration process, and Minister Dendias underlined that Serbia can always count on the support of Greece in overcoming the difficulties on this path and accelerating the process.
Minister Dendias praised the vaccination process in Serbia, with the hope that life will soon return to normal and that Serbian tourists would be able to travel to Greece without problem in the summer, in accordance with the agreement already reached.
They agreed to organise reciprocal visits of heads of parliament, as well as representatives of parliamentary friendship groups, as soon as possible, in order to strengthen parliamentary cooperation.
---
Photo gallery
---
---
wednesday, 25 may
No announcements for selected date