National Assembly of the Republic of Serbia / Activities / Activity details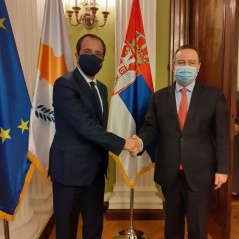 5 April 2021 National Assembly Speaker Ivica Dacic, with the Minister of Foreign Affairs of Cyprus
Monday, 5 April 2021
National Assembly Speaker Ivica Dacic Meets with Cypriot Foreign Minister
The Speaker of the National Assembly of the Republic of Serbia Ivica Dacic met with the Minister of Foreign Affairs of the Republic of Cyprus Nikos Christodoulides, currently visiting Serbia.
---
National Assembly Speaker Ivica Dacic said he was very happy to be meeting with his former colleague, with whom he enjoyed excellent cooperation as the head of diplomacy. He opined that the bilateral relations between the two countries have always been excellent, that Serbia attaches great importance to cooperation with Cyprus which is amply developed across the board. He pointed out that the relations between the two countries are based on solidarity, understanding and full support for national interests. He thanked Cyprus for strongly supporting Serbia, both on the European path and in all international organisations.
He expressed his readiness to continue to contribute to the improvement of cooperation in his new office, just as he did in his previous functions. Cooperation between the two parliaments is well-developed and it should continue to improve, with the Memorandum of Cooperation between the two parliaments signed in 2018 providing sound foundation for it, said National Assembly Speaker Ivica Dacic.
Minister Christodoulides expressed satisfaction with today's trilateral meeting of the foreign ministers of Serbia, Greece and Cyprus, recalling that the initiative for this meeting came from Ivica Dacic, but the pandemic delayed its realisation. He pointed out that, in addition to improving cooperation between the three countries, today's meeting would be an opportunity for Cyprus and Greece to provide strong support for Serbia's European integration and send a message to Brussels that the process should be accelerated.
Minister Christodoulides congratulated Serbia on the successful fight against the epidemic, praising the excellently organised vaccination process in Serbia. Giving a positive assessment of the economic situation in the country, he praised the measures that the Government is taking in that field. He reiterated that Serbia can always count on the strong support of Cyprus in the process of European integration, as well as in international organisations in order to preserve its territorial integrity.
The officials agreed to organise reciprocal visits of the two countries' heads of parliament after the parliamentary elections in Cyprus in May this year.
---
Photo gallery
---
---
wednesday, 25 may
No announcements for selected date