National Assembly of the Republic of Serbia / Activities / Activity details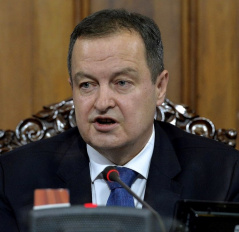 25 February 2021 National Assembly Speaker Ivica Dacic
Thursday, 25 February 2021
National Assembly Speaker Ivica Dacic Asks MPs for Round of Applause for Gaga Antonijevic, Visiting Serbian Assembly
In the course of today's National Assembly session, attended by Prime Minister Ana Brnabic and the members of the Government of the Republic of Serbia, the Speaker of the National Assembly of the Republic of Serbia Ivica Dacic asked the MPs to greet with a round of applause the producer and director of "Dara from Jasenovac", Predrag Gaga Antonijevic, who followed part of the session from the gallery of the National Assembly House Grand Hall.
---
"Yesterday, and even today, we mentioned the current political situation on several occasions, as well as the public reaction, on the one hand extremely emotional, and on the other extremely propagandistic against the film "Dara from Jasenovac", said National Assembly Speaker Ivica Dacic and added that after many decades, it was necessary to make at least one film about the suffering of our people, in Jasenovac and other sites of destruction.
"Having in mind that we mentioned that, since Predrag Gaga Antonijevic, the director and producer of the film, is visiting the National Assembly today, I asked him to be in the gallery at this moment and I would like you to greet him" said Dacic
Antonijevic stood up and greeted the deputies who responded with a loud and long applause.
Dacic also thanked the President of Serbia Aleksandar Vucic and the Government who participated in the project.
"The attitude towards the victims is not a political issue, it is a moral issue, and it is extremely immoral that the Serbian people treated their own victims with ignorance all these decades. And that is why I would like to thank everyone who participated in this project on behalf of not only the Assembly but the entire nation", said the Speaker of the National Assembly of the Republic of Serbia Ivica Dacic.
---
Photo gallery
---
---
friday, 28 january
13.00 - meeting of the Inter-Party Dialogue Control Body (National Assembly House, 13 Nikola Pasic Square, hall 1)

17.00 - National Assembly Speaker Ivica Dacic meets with Inter-Party Dialogue co-facilitators (National Assembly House, 13 Nikola Pasic Square, hall 1)