National Assembly of the Republic of Serbia / Activities / Activity details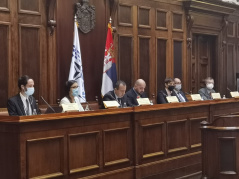 15 November 2021 National Assembly Speaker Ivica Dacic at the NATO PA Rose-Roth Seminar
Monday, 15 November 2021
National Assembly Speaker Ivica Dacic Addresses NATO PA Rose-Roth Seminar
The Speaker of the National Assembly of the Republic of Serbia Ivica Dacic spoke at the opening of the 101st Rose-Roth Seminar of the NATO Parliamentary Assembly "Euro-Atlantic integration, Partnership for Peace, and the way forward on remaining challenges in the Western Balkans", held 15 – 17 November 2021, in the National Assembly.
---
THE FOLLOWING IS THE SPEECH OF THE SPEAKER OF THE NATIONAL ASSEMBLY OF THE REPUBLIC OF SERBIA IN ITS ENTIRETY:
"Honourable Mr. Connolly,
Ambassador Schmid,
Dear colleagues,
Dear friends,
I'd like to bid you welcome to Belgrade, Serbia and our National Assembly, that together with the NATO Parliamentary Assembly is the co-organiser of this important seminar, and I'd like, you feel like visiting a good friend. I am glad that Belgrade is hosting the "Rose-Roth" seminar for the fourth time now, within which the interparliamentary cooperation between NATO member states and partner countries, including Serbia, has been taking place since 1990.
We believe that this, parliamentary type of our cooperation is an important part of our overall relations and that our participation in the work of the NATO Parliamentary Assembly contributes to the realisation of common goals and interests arising from our affiliation with the Partnership for Peace Programme. This year, we have a lot of reasons to look back, because in this way Serbia also marks 15 years since joining the Partnership for Peace Programme. The fact that we are holding this meeting in Belgrade, I think speaks volumes about the quality of these relations and that Serbia and NATO, as an organisation and all of its members individually, have reason to be satisfied with the results and the level of cooperation so far.
By being a member the Partnership for Peace, Serbia is managing to achieve its goals and interests for which he joined the program 15 years ago. That is, first and foremost, our strong commitment to preserving peace and stability in this part of Europe, as well as our wish to modernise and make our defence system even more efficient through various types of cooperation. I believe that our partnership's particular value lies in the fact that the Serbian representatives participate in international peacekeeping missions within the United Nations, making an important contribution to the joint actions of peaceful humanity in those crisis areas where such engagement is necessary.
I will also take this opportunity to repeat the principled position of the Republic of Serbia to pursue the policy of military neutrality. This is our legal obligation as well as a reflection of the mood of the vast majority of our citizens. We believe that this position best reflects our view on how international security issues should be tackled, as well as our people's deep feelings related to the NATO intervention against our country 22 years ago.
We are glad and we respect the fact that NATO as an organisation and all of its member states deeply respect the position of the Republic of Serbia and do not see it as an obstacle to have intensive and quality cooperation in mutual interests. Just as Serbia, has no plans to join NATO, so NATO does not have a "secret plan to make us a member", as the then high-ranking NATO official told me a few years ago.
Membership in the Partnership for Peace is therefore the optimal framework for our cooperation and we are convinced that it provides quite enough opportunities to achieve common interests when it comes to preserving peace and stability, participating in peace initiatives and, in general, building prosperity for our citizens and peoples.
As for the security issues and challenges we are facing, it is clear that for the Republic of Serbia, Kosovo-Metohija is the number one issue and the focus of our greatest attention. Although we are investing great efforts and great patience to reach a mutually acceptable solution within the framework of the EU facilitated dialogue, which will bring peace and stability to this area in the long run, we are still facing numerous security problems in Kosovo-Metohija, where our compatriots are primarily endangered.
The generator of these constant security threats is only and exclusively the government in Pristina, and we had the opportunity to see this only a month ago in the north of Kosovo during the illegitimate and violent actions of special army forces from Pristina. These actions, accompanied by constant efforts to establish and equip some armed forces of Kosovo are a direct threat to peace and stability, not just in Kosovo-Metohija, but in the whole region.
The Republic of Serbia has never and on no occasion taken any step that would pose a risk or threat to security in the region, and especially in the area of Kosovo-Metohija. The fact that Serbia is showing great patience and restraint must not deceive anyone into thinking that it is indecisive regarding the protection of its population in Kosovo-Metohija. On the contrary, this attitude shows only our strength and determination to resolve this issue exclusively through political and diplomatic means, because we know very well that this is the only way to reach compromise and have a permanent regulation of the relations between Serbs and Albanians.
In this regard, we expect the KFOR mission in Kosovo-Metohija, under the command of NATO, to fully carry out its tasks and timely thwart any attempt of violence and destabilisation of the situation on the territory under its jurisdiction, especially in the areas where Serbs live. Our relationship with the KFOR mission has been at a high level from the very beginning and we appreciate the efforts of all its members to maintain peace in Kosovo-Metohija, particularly to help the Serb community when needed. As a responsible country, we will continue to cooperate with KFOR at all levels, because we respect its mandate and the role it has been appointed. This aspect of our cooperation is among our top common goals and interests and I will use this occasion to invite all NATO member states, and you as representatives in the Parliamentary Assembly, to do whatever you can to make this mission in Kosovo-Metohija be really the factor of preserving stability and preventing violence.
I am convinced, ladies and gentlemen, that the 15 years behind us should be a good guideline to tell us in which direction our cooperation should go in the years ahead. The Republic of Serbia is an active and constructive member of the Partnership for Peace Programme and we want to continue on that path. We need each other, we have a very clear framework for many joint activities and cooperation, and most importantly we have a strong awareness that only together we can resist the many contemporary challenges and threats.
In that spirit, I would like to once again bid you welcome and wish you fruitful work in this seminar, and hopefully we will meet again in Belgrade and Serbia on this or some similar occasion.
Thank you!"
---
Photo gallery
---
---
friday, 1 july
11.00 - the National Assembly Speaker addresses the conference on the Position of Serbia's in the Euro-Atlantic Community (National Assembly Building, 14 Kralja Milana Street, Grand Hall)