National Assembly of the Republic of Serbia / Activities / Activity details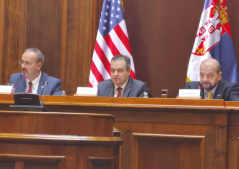 14 October 2021 National Assembly Speaker Ivica Dacic at the gathering marking the 140th anniversary of Serbia-US diplomatic relations
Thursday, 14 October 2021
National Assembly Speaker Ivica Dacic Addresses Gathering Marking 140th Anniversary of Serbia-US Diplomatic Relations
The Speaker of the National Assembly of the Republic of Serbia Ivica Dacic addressed the gathering marking the 140th anniversary of Serbia-US diplomatic relations.
---
THE FOLLOWING IS THE SPEECH OF THE SPEAKER OF THE NATIONAL ASSEMBLY OF THE REPUBLIC OF SERBIA IN ITS ENTIRETY:
Dear Colleagues,
Dear Friends,
Thank you for the invitation to address you today and I would also like to thank the Parliamentary Friendship Group with the US for organising this gathering to mark one of the important dates in our history. Serbia is one of the few countries that can boast of such a long tradition of diplomatic relations with the US, which is why we have many reasons to nurture this tradition and celebrate it as an important date in our national and diplomatic history.
At the time when Serbia and the US signed the Consular Convention in October 1881, we did not know much about each other. The then Principality of Serbia had been an independent and internationally recognised state for only three years, it worked hard to form its institutions and rapidly modernised and sought its place in the world. America experienced a huge economic development, it became a strong industrial power and a new home for many of our compatriots. At that time, a large number of our people, not only from Serbia but from places they lived as well, went across the ocean and became valuable builders of America.
Stories about America, its greatness and wealth, as well as about freedom and equal opportunities for all, came to Serbia. But at the same time, stories about a small but proud and freedom-loving country in the Balkans came to America. Our peoples got to know each other quickly, without the Internet, television or direct flights, and a feeling was created between them that somewhere far away they have friends and people similar to themselves, who share the same values.
Great people worked on this rapprochement and their mission is alive today as we proudly look back on a 140-year-long common history. We will always remember Nikola Tesla, Mihailo Pupin and other great Serbs in America, as well as President Wilson and many other Americans who built the Serbian-American friendship knowing that it is worth investing in it and fighting for.
We demonstrated this in the Great War, when neither the Serbian nor the American people had any doubt about siding with freedom, democracy and justice in the great world cataclysm. The great sacrifices of the Serbian people were met with deep respect in Washington and throughout America when President Woodrow Wilson asked his compatriots for it. In the Second World War, our great friendship and brotherhood were confirmed because we stood together again in defence of freedom and peace, against the forces of fascism and evil. And we won together again.
We must not forget those glorious days and great sacrifices that the peoples of Serbia and America made on the altar of freedom, which is why I take every opportunity to remind them of it. We also had difficult moments, we will not forget them, nor are we allowed to. But we have the strength to go further and not allow the years of recent history when we disagreed, even clashed, to obscure a whole century of our friendship and alliance.
Serbia and America know each other well today, we have lived through both good and bad times together, learned lessons and decided to go on as firm partners. We work together on everything that is in our mutual interest. And we know very well that none of our state and national goals can be achieved without cooperation with America, nor does the US think that it can achieve any of its interests in this part of Europe without Serbia.
That is what binds us today and the thing we build our relations on, and there is no reason for anyone to be unhappy about it. American companies and their European branches are huge investors in Serbia, they employ 20,000 of our people. We want to have even more of them, but we also want as many of our companies to operate on the US market. There are many areas where we want and where we have to cooperate, and that obliges us to remain partners and think about the future.
The 140 years of shared history oblige us as do the works of all the great people who built that history. On their behalf and on behalf of all the future years of cooperation before of us, I congratulate Serbia and the US on their great jubilee and wish our peoples many more years of common prosperity.
Thank you!
---
Photo gallery
---
---
monday, 27 june
No announcements for selected date