National Assembly of the Republic of Serbia / Activities / Activity details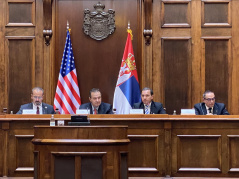 10 September 2020 National Assembly Speaker Ivica Dacic addresses the conference on the 20th anniversary of terrorist attacks on the US
Friday, 10 September 2021
National Assembly Speaker Ivica Dacic Addresses Conference on 20th Anniversary of Terrorist Attacks on US
The Speaker of the National Assembly of the Republic of Serbia Ivica Dacic addressed the conference: We Remember and Stand by the US, marking the 20th anniversary of terrorist attacks on the US.
---
THE FOLLOWING IS THE SPEECH OF THE SPEAKER OF THE NATIONAL ASSEMBLY OF THE REPUBLIC OF SERBIA IN ITS ENTIRETY:
"Distinguished ambassadors,
Your Excellency Mr. Godfrey,
Dear colleagues,
I would like to thank the Serbian-American Friendship Congress and my colleague Marinkovic for bringing us together again, this year on the anniversary of the terrorist attacks on the US, to pay tribute to the innocent victims and also confirm our common commitment to fight terrorism and all forms of extremism in the world. It is our duty to remember the tragic events in the US every September 11, as a reminder to persevere in the constant common fight against international terrorism, a danger which we are unfortunately still exposed to.
I would like to take this opportunity to express the Serbian citizens' respect and solidarity with the US Government and all the families of those tragically killed in the terrorist attacks in the US, as well as my personal condolences for their loss.
In the past 20 years, the world has undergone great changes, many of them shaped by the fight against terrorism and the response of peaceful humanity to the growing extremism that threatened its life and development. This struggle has been very difficult and complex, it still is to this very day. Тhrought, the Republic of Serbia has been a part of the global community of people who resist the encroachment of terrorism, prevent its spread and take on new forms of action. We know very well that the Balkans is one of the regions where fighters for battlefields in remote parts of the world are recruited, and that is why we use all of our resources to prevent the extremists' activities.
We are sure that no one can stand against terrorism alone, no matter how big or powerful they are. This is one of the most important lessons we have all learned from the tragedy of September 11, and that is why it is of great importance to remain a global community in that fight, regardless of all of our other differences and world views. Just as terrorists see no borders between states or differences between nations, carrying out their destructive plans, so must our common response be.
We are reminded of that obligation today, when we pay tribute to the victims of September 11. I am have no doubt that today's gathering will once again confirm that solidarity in the fight against terrorism is what connects us and gives us hope that we will emerge victorious in the fight against this evil which the entire peaceful world is exposed to.
---
---