National Assembly of the Republic of Serbia / Activities / Activity details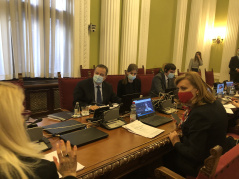 25 January 2021 Delegation headed by the National Assembly Speaker at the session of the Parliamentary Assembly of the Council of Europe
Monday, 25 January 2021
National Assembly Speaker Dacic at PACE Session
The standing delegation of the National Assembly of the Republic of Serbia to the Parliamentary Assembly of the Council of Europe began its participation in the first part of the 2021 winter session, to be held 25 – 28 January
---
The Parliamentary Assembly of the Council of Europe began the session by verifying the mandates of the Serbian delegation, headed by National Assembly Speaker Ivica Dacic.
In addition to the Secretary General of the Council of Europe, Marija Pejcinovic Buric, during the four days of the session the attending will also be addressed by Federal Minister for Foreign Affairs of Germany Heiko Maas, within the framework of the German presidency of the Committee of Ministers, and European Commissioner for Justice Didier Reynders.
In addition to the regular topics, the agenda will also include a debate on the COVID-19 vaccines where the delegations will be addressed by the Director General of the World Health Organization Tedros Ghebreyesus.
Due to epidemiological reasons, the PACE January session was organized in a hybrid format – the delegations were given the opportunity to travel to Strasbourg and physically attend the session or to participate via video conference. Like most delegations, Serbia's standing delegation will participate via video conference.
---
Photo gallery
---
---
friday, 28 january
13.00 - meeting of the Inter-Party Dialogue Control Body (National Assembly House, 13 Nikola Pasic Square, hall 1)

17.00 - National Assembly Speaker Ivica Dacic meets with Inter-Party Dialogue co-facilitators (National Assembly House, 13 Nikola Pasic Square, hall 1)