National Assembly of the Republic of Serbia / Activities / Activity details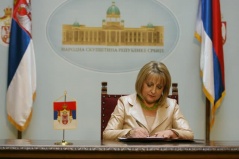 13 March 2012 National Assembly Speaker Prof. Dr Slavica Djukic Dejanovic signs the Decision on calling the elections for councilors of local self-government unit assemblies
Tuesday, 13 March 2012
National Assembly Speaker Calls Local Elections
The Speaker of the National Assembly of the Republic of Serbia, Prof. Dr Slavica Djukic Dejanovic called the local elections:
---
"In line with Article 8 of the Law on Local Elections, I have just called the elections for councilors of municipal assemblies, town assemblies and the Belgrade City Assembly, for 6 May 2012, with the exception of: the councilors of the municipal assemblies of Arandjelovac, Bor, Vrbas, Vrnjacka Banja, Knjazevac, Kovin, Kosjeric, Kosovska Mitrovica, Leposavic, Negotin, Novo Brdo, Odzaci, Pec, Prijepolje and Ruma and councilors of the Pristina town assembly, which have already had extraordinary elections in the period from 2008 to 2012; councilors of the municipal assembly of Kula, the elections for which have already been called on 29 February 2012.
In line with United Nations SC Resolution 1244, the Government of the Republic of Serbia will, in cooperation with UNMIK, implement all actions necessary for the elections on the territory of the Autonomous Province of Kosovo-Metohija.
I urge the citizens to go to the polls so that they might contribute to the election of local self-governments in their respective communities that will best take care of the interests of all their fellow-citizens.
I am especially pleased that after the elections, for the first time, one third of all the councilors in each local self-government will be women."

---
---
monday, 3 october
11.00 - the Chairman of the Foreign Affairs Committee meets with the Cypriot Ambassador to Serbia (National Assembly House, 13 Nikola Pasic Square, hall 2)

12.00 - sitting of the Culture and Information Committee (National Assembly House, 13 Nikola Pasic Square, hall 4)

Following the sitting of the Culture and Information Committee - press conference of MP Sinisa Kovacevic (National Assembly House, 13 Nikola Pasic Square, Central Hall)

12.30 - press conference of MP Nebojsa Bakarec (National Assembly House, 13 Nikola Pasic Square, Central Hall)

13.00 - the National Assembly Speaker meets with the Canadian Ambassador to Serbia (National Assembly House, 13 Nikola Pasic Square, hall 1)