National Assembly of the Republic of Serbia / Activities / Activity details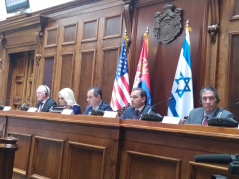 12 May 2022 The Speaker of the National Assembly of the Republic of Serbia Ivica Dacic
Thursday, 12 May 2022
National Assembly Speaker Addresses Conference on Serbian-American Relations: Energy Diversification Strategy
The Speaker of the National Assembly of the Republic of Serbia Ivica Dacic addressed the conference on Serbian-American Relations: Energy Diversification Strategy, organised by the Serbian-American Friendship Congress.
---
THE FOLLOWING IS THE SPEECH OF THE SPEAKER OF THE NATIONAL ASSEMBLY OF THE REPUBLIC OF SERBIA IN ITS ENTIRETY:
Respected colleagues,
Dear friends,
It is my pleasure to welcome you to this conference and thank the Serbian-American Friendship Congress and Color Media Communications for continuing to organize these gatherings aimed at strengthening relations between the Republic of Serbia and the United States. I am especially glad that this time the attention is focused on such important issues as energy supply and environmental protection, because they are at the very centre of both our two countries' inter-state relations and internal policies.
I will not take much time to point out that energy supply has always been a priority issue in international relations and is a key priority today, both on the international and our national political and social scenes. No important interstate gathering fails to address the topic we are dealing with today and no government in the world has failed to include energy and environmental issues in its priorities.
We who are engaged in politics and perform important state duties and are not electrical engineers or oil and gas technologists have been learning these lessons for a long time because without them we cannot do our job. In Serbia, we have been dealing with the energy source diversification for a long time as one of the state and economic priorities, and in that regard we are very active in all international forums.
The Republic of Serbia is an active and equal participant in the global effort to reduce greenhouse gas emissions we have undertaken the obligation to reduce emissions of harmful gases to zero by 2050. And we are working on that.
As the National Assembly Speaker of the current mandate, I must also express my satisfaction that we passed the Law on Climate Change last year, as well as a package of four energy laws focused on renewable energy sources and energy efficiency. The significance of these laws is huge and lasting, they bring modern solutions to energy and environmental challenges to Serbia and put us among the countries that deal with these issues systematically, not on a case-to-case basis or from one election campaign to the next. Serbia is an energy and environmentally responsible country and as such part of a global community that cares about the future of the planet.
Speaking of diversifying energy supply sources, you know that Serbia is not sitting idly by, that it is our long-term strategic orientation to constantly increase our energy security and work on increasing the number of supply sources. Our energy needs are on the rise, primarily due to our economic growth and its growing demand for energy, and at the same time the needs of the population are growing as well, given the constant growth of living standards.
Our constant obligation, as states, is to respond to these growing needs, but in a way that will ensure stability, continuity and as much independence as possible when it comes to energy supply. The crisis in Ukraine has undoubtedly been the source of great upheavals in this regard and forced many countries, especially in Europe, to find new solutions and seek answers to energy challenges day by day.
Serbia is no exception, but I must mention that, unlike many other, even much more developed countries, it was better prepared to face these disturbances. Not a single day since the beginning of the crisis in Ukraine has passed that we have not had a shortage or even delays in the energy supply. We will not have such situations in the future because over the years our energy system has been built in such a way that ensures supply stability, even in these extraordinary circumstances.
President Vucic's recent participation in the ceremony launching the construction of the liquefied natural gas terminal in Alexandroupolis, Greece, is just the latest example in which we confirm our strategic openness to new gas supply channels. We want as many of these sources as possible because it is in the best interest of our country and our economy. At the same time, we must be aware that these are huge projects, which require time and quick reorientation is not possible. Therefore, Serbia keeps the door wide open to as many energy suppliers as possible, because that is in our best interest. But at the same time, and for the same reasons - preserving its own interests and the interests of its citizens and economy, it must preserve the full stability of its energy market through sources that have been dominant so far.
That is why, here, as we discuss energy issues with our friends from the United States, I would like to reiterate our readiness to work together to diversify our energy supply even more intensively than before. We will be very pleased to find any and every new solution, a solution that means even greater stability and independence of our energy system and a solution that will meet our growing needs. In that sense, I count on the partnership and constructive approach of the United States and its institutions and companies, and as far as Serbia is concerned, our readiness and openness is beyond doubt.
Thank you and I wish you successful work in this conference.
---
Photo gallery
---
---
monday, 2 october
10.40 - the National Assembly Speaker's address at the event "Joy of Europe" (National Assembly House, 13 Nikola Pasic Square, Central Hall)

12.00 - continuation of the sitting of the Committee on the Economy, Regional Development, Trade, Tourism and Energy (National Assembly House, 13 Nikola Pasic Square, hall 2)

14.15 - the National Assembly Speaker meets with a delegation of rapporteurs of the Parliamentary Assembly of the Council of Europe Monitoring Committee (National Assembly House, 13 Nikola Pasic Square, hall 1)

16.00 - the heads of the parliamentary groups meet with the delegation of rapporteurs of the Parliamentary Assembly of the Council of Europe Monitoring Committee (National Assembly Building, 14 Kralja Milana Street, Blue Salon)

17.45 - the members of the Committee on Constitutional and Legislative Issues meet with the delegation of rapporteurs of the Parliamentary Assembly of the Council of Europe Monitoring Committee (National Assembly Building, 14 Kralja Milana Street, Blue Salon)