National Assembly of the Republic of Serbia / Activities / Activity details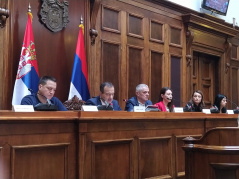 1 June 2022 The Speaker of the National Assembly of the Republic of Serbia Ivica Dacic
Wednesday, 1 June 2022
National Assembly Speaker Addresses Conference on Digital Peer Violence
The Speaker of the National Assembly of the Republic of Serbia Ivica Dacic addressed the conference hosted by the National Assembly entitled Digital Peer Violence – How to Prevent It?
---
THE FOLLOWING IS THE SPEECH OF THE SPEAKER OF THE NATIONAL ASSEMBLY OF THE REPUBLIC OF SERBIA IN ITS ENTIRETY:
"Dear Minister Ruzic,
Ladies and gentlemen, dear friends,
Thank you for organising this conference on a topic that concerns every family in Serbia and begs for our attention as one of the most important social issues, asking us to work on it constantly, devotedly, with the involvement of all state and social capacities available. I am glad that we are discussing the problem of peer violence in the digital sphere in the National Assembly, because it is also a symbolic way to raise awareness on this topic and say that it concerns all of us and that we must all participate in solving this problem.
The information we received on the eve of this conference is more than worrying. Almost every case of recorded digital violence is in fact - peer violence. As many as two thirds of high school students and every other elementary school student have experienced bullying on the Internet. This horrifying data clearly says that our entire young population is practically exposed to some kind of violence in digital space.
These, then, are not sporadic incidents, much less phenomena that we may consider transient, that will disappear the same way they appeared. That will not happen. For our young people, the digital world is the world they live in. It has even been the world they went to school in in it for the last two years because of the corona pandemic. They find many useful things in it, learn in it, get educated, get to know the world around them. They also have fun in there, looking for entertainment and, unfortunately, getting into risky situations which they are not prepared for.
We have passed the point of no return, there is no going back, nor would it be normal. But we can do a lot more to make this space as safe as possible for our children, the same way we care for their safety on the street, in traffic, on sports fields, arenas of so-called real life.
In the past period, our society and especially our state institutions have taken these problems very seriously and I must say that we have made good progress. The protection of children and their safety is one of the priorities of the Government which has its own Council for Child Rights. There are also a number of other governmental and parliamentary working bodies working in synchrony on programmes and measures to protect our children from digital violence. There are also new campaigns, support services for victims of violence, many actions that draw attention to this problem and offer support. There are, of course, actions of our police and justice bodies aimed at detecting and suppressing all types of digital violence, especially child pornography.
But despite it all there is ample room where we can and must, as a society, do everything to protect our youngest from all the risks they face in the virtual world. Until that risk is reduced to zero, we as a society will have to bear the great burden of worry and important duty that we must fulfil. I am convinced that we will move toward that goal even faster and more efficiently, together same as before, because this is the only way we can perform this duty. The state cannot do it alone, neither can we as individuals, nor the school, or the non-governmental sector, no one can oppose this alone, without cooperation with everyone else. I am convinced that both the future Assembly and the next Government will continue to be the centres gathering our joint efforts to fight even more vigorously for the safety of our children. In this respect, I view today's conference as part of our joint effort and I am certain that it will move us at least a step closer toward achieving our common goal which is safety for our children in the digital sphere.
Thank you!"
---
Photo gallery
---
---
monday, 15 august
11.00 - press conference of MP MA Ivan Kostic (National Assembly House, 13 Nikola Pasic Square, Central Hall)