National Assembly of the Republic of Serbia / Activities / Activity details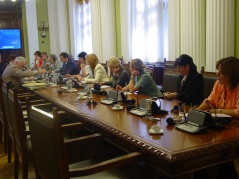 National Assembly Service representatives meet with the representatives of the Westminster Foundation for Democracy and UK Parliament's House of Commons Service
Tuesday, 5 July 2011 12:00
National Assembly Service Representatives Meet with Representatives ofWestminster Foundation for Democracy and UK Parliament's House of Commons Service
Representatives of the National Assembly's Service met today with the representatives ofthe Westminster Foundation for Democracy and UK Parliament's House of Commons Service.
---
Alistair Doherty, Clerk to the Scrutiny Committee, representative of the UK Parliament's House of Commons Service, stressed that the Westminster system knows no separation of powers and the ministers are also members of parliament. He said that there are two types of Committees – legislative and scrutiny, and the Committees' role is advisory and not legislative.
National Assembly Deputy Secretary General Mladen Mladenovic said that, unlike the UK Parliament, the legislative role is the National Assembly's dominant role, particularly as regards Serbia's Euro-integration process and the need to pass new laws and harmonise the national and European legislation. Strengthening the oversight role was achieved by the adoption of the new National Assembly Rules of Procedure which introduced the obligatory submission of quarterly reports on the ministries' work to the competent Committees and the institute of public hearing whose implementation calls for strengthening the capacities of the National Assembly's Service.
In the continuation, the representatives of the National Assembly's Service were briefed on the manner of operation of the UK Parliament's House of Commons Research Centre, as well as the preparations of the Committee Clerks for legislative activities and preparations of the support service for public hearings at the British Parliament.
This meeting is the first in a series of activities within the nine-month project of "Strengthening the legislative and control capacities of the National Assembly", on which the National Assembly Speaker Prof. Dr Slavica Djukic Dejanovic and Chief Executive Officer of the Westminster Foundation for Democracy Linda Duffield signed a Memorandum of Cooperation today. The project aims to implement the experiences of good practice of the UK Parliament and the parliaments of European Union member states in the sphere of the parliament's legislative and control functions and the role of the Support Service in providing support to the MPs in the discharge of their duty.
---
---
friday, 3 december
10.30 - sitting of the European Integration Committee (National Assembly House, 13 Nikola Pasic Square, hall 3)

11.00 - sitting of the Committee on the Economy, Regional Development, Trade, Tourism and Energy (National Assembly House, 13 Nikola Pasic Square, hall 2)

11.00 - public hearing on: "Implementation of the United Nations Climate Change Conference - COP 26 Agreement in Serbia" (National Assembly House, 13 Nikola Pasic Square, Small Hall)

11.00 - the National Assembly Speaker addresses the public hearing on: "Implementation of the United Nations Climate Change Conference - COP26 Agreement in Serbia" (National Assembly House, 13 Nikola Pasic Square, Small Hall)