National Assembly of the Republic of Serbia / Activities / Activity details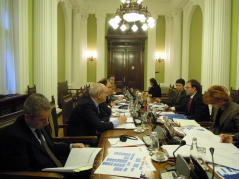 31 January 2012 National Assembly Service managers speak to their colleagues from the Hellenic Parliament
Tuesday, 31 January 2012
National Assembly Service Managers Speak to Greek Colleagues
Today, at the National Assembly House, National Assembly Secretary General Veljko Odalovic and Deputy Secretary General Mladen Mladenovic received the Secretary General of the Hellenic Parliament Athanassios Papaioannou and leader of the twinning project Vasilios Svolopoulos and associates.
---
The meeting focused on the drafting of the Twinning contract related to the realisation of project "Strengthening the capacities of the National Assembly in the European integration process".
The discussion touched on the content of the contract, drafting of an activity plan and how to fund the project. The contract is expected to be signed and forwarded to the European Union Delegation to Serbia by 15 March.
It was agreed that the realisation of the project, if the whole procedure is duly followed, should begin in September. Some of the project activities will, as agreed, in addition to the employees involve the MPs as well.
The National Assembly team to work on the realisation of the project will include sector chiefs, department heads and officers of the National Assembly's European Integration Department, and the project activities will concern the entire NARS service.
The project is financed by European Union pre-accession funds (IPA) as part of the first component relating to the creation of administrative capacities in the European integration process.
It was announced that a Memorandum of Cooperation between the Serbian and Greek parliament would be signed at the National Assembly during the visit of the Hellenic Parliament Speaker Philippos Petsalnikos to Serbia on 13 February.
---
---
thursday, 1 december
9.45 - press conference of MP Usame Zukorlic (National Assembly House, 13 Nikola Pasic Square, Central Hall)

10.30 - the National Assembly Speaker meets with a delegation of the Turkish Grand National Assembly Committee on Foreign Affairs (National Assembly House, 13 Nikola Pasic Square, hall 1)

10.30 - press conference of the GREEN – LEFT CLUB, DON'T LET BELGRADE D(R)OWN, WE HAVE TO Parliamentary Group (National Assembly House, 13 Nikola Pasic Square, Central Hall)

11.10 - the members of the Foreign Affairs Committee meet with the delegation of the Turkish Grand National Assembly Committee on Foreign Affairs (National Assembly House, 13 Nikola Pasic Square, hall 2)

12.00 - sitting of the Culture and Information Committee (National Assembly House, 13 Nikola Pasic Square, hall 4)

12.00 - press conference of MPs Slavica Radovanovic, Sanda Raskovic Ivic, Tatjana Manojlovic, Radmila Vasic and Jelena Kalajdzic (National Assembly House, 13 Nikola Pasic Square, Central Hall)

13.00 - sitting of the Committee on Administrative, Budgetary, Mandate and Immunity Issues (National Assembly House, 13 Nikola Pasic Square, hall 3)

13.00 - the National Assembly Speaker meets with the Swedish Ambassador to Serbia (National Assembly House, 13 Nikola Pasic Square, hall 1)

14.00 - sitting of the Defence and Internal Affairs Committee (National Assembly House, 13 Nikola Pasic Square, hall 3)

18.30 - representatives of opposition parliamentary groups meet with the EU Commissioner for Neighbourhood and Enlargement (National Assembly House, 13 Nikola Pasic Square, hall 2)