National Assembly of the Republic of Serbia / Activities / Activity details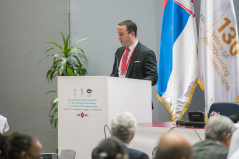 14 October 2019 National Assembly Secretary General Srdjan Smiljanic speaks at the session of IPU Association of Secretaries General of Parliaments
Monday, 14 October 2019
National Assembly Secretary General Srdjan Smiljanic Addresses Session of IPU Association of Secretaries General of Parliaments
National Assembly Secretary General Srdjan Smiljanic addressed the session of the Association of Secretaries General of Parliaments at the 141st Assembly of the Inter-Parliamentary Union in Belgrade.
---
Smiljanic emphasized the importance of the topics the participants of the 141st IPU Assembly will be tackling – the parliament's control role, openness and accessibility for persons with disabilities.
The National Assembly Secretary General said that, constitutionally, Serbia is a parliamentary democracy and procedures and regulated institutions with a strong parliament are crucial for a stable and strong parliamentary democracy. Parliamentarism has a long tradition in Serbia, since the beginning of the 19th century, with the Parliament acquiring the role it has today with the Constitution of 1903. However, the institutions, procedures and standards that make up a parliamentary democracy need to be adapted and updated to be able to respond to modern challenges, said Smiljanic.
He briefed the participants of the meeting on the position, structure and duties of the National Assembly with a special focus on the modern challenges faced by the National Assembly, as well as the rest of the national parliaments in the world – openness, getting the citizens involved in the parliaments' work and working toward promoting the parliaments' representative and control role.
Speaking of transparency, Smiljanic said that numerous surveys identify the National Assembly as one of the most transparent state institutions in the Republic of Serbia. The sessions of the National Assembly are aired live on the national public service and livestreamed on the official webpage, as are the meetings of the committees and other working bodies, sessions outside of the National Assembly seat, public hearings, press conferences and other activities of the National Assembly.

The Secretary-General added that the National Assembly had a number of notable mentions as a best practice example in the Global Parliamentary Report 2017 published jointly by the IPU and UNDP.
Speaking of the National Assembly and its Support Service's prospects for further development, we cannot neglect to mention the United Nations 2030 Agenda, especially sustainable development goal 16 – "Peace, justice and strong institutions", said Smiljanic. "Our response in the face of future challenges should lie in the implementation of this goal and development of good and accountable governance, strong parliament and the promotion of other institutions, improvement of the election system and daily efforts to raise public trust in the National Assembly", Srdjan Smiljanic concluded.


---
Photo gallery
---
---
tuesday, 18 january
14.00 - the National Assembly Speaker meets with OSCE Parliamentary Assembly Secretary General (National Assembly House, 13 Nikola Pasic Square, diplomatic salon of Prince Pavle)