National Assembly of the Republic of Serbia / Activities / Activity details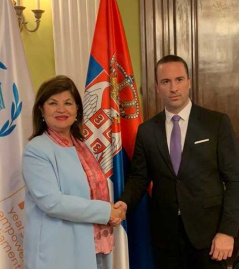 16 October 2019 National Assembly Secretary General Srdjan Smiljanic with the Secretary General of the Parliament of North Macedonia Cvetanka Ivanova
Wednesday, 16 October 2019
National Assembly Secretary General Meets with North Macedonian Parliament Secretary General
On the margins of the 141st Assembly of the Inter-Parliamentary Union in Belgrade, National Assembly Secretary General Srdjan Smiljanic met with the Secretary General of the Parliament of North Macedonia Cvetanka Ivanova.
---
Recalling the close ties between the two nations, accompanied by frequent contacts and close cooperation, Smiljanic said how pleased he was with the participation of the Parliament of North Macedonia in the 141st IPU Assembly.
"I believe the exchange of practical knowledge is most useful in our area of expertise", said Smiljanic.
He praised the substantive support the secretariat offers the National Assembly in the realization of international cooperation, as well as in the work of bodies not envisaged by the Rules of Procedure such as the Women's Parliamentary Network and the Global Organization of Parliamentarians Against Corruption (GOPAC), in addition to its regular activities concerning the Parliament's day-to-day operation.
Smiljanic briefed the Secretary General of the Parliament of North Macedonia on the work and results of the Parliamentary Budget Office, as well as the activities aimed at boosting the Parliament's transparency such as the sessions outside of the National Assembly seat held in cooperation with local self-governments.
Cvetanka Ivanova briefed the National Assembly Secretary General on the North Macedonian Parliament's digitalization plans, adding that it is hard at work on ensuring its autonomy.
The officials concluded that the cooperation between the two parliaments should be continued, with the mutual wish to intensify it in the future.


---
---
thursday, 30 june
10.00 - the National Assembly Speaker delivers keynote address at the CSR Serbia 2022 conference (National Assembly House, 13 Nikola Pasic Square, Small Hall)

11.00 - the National Assembly Speaker meets with the EU Special Representative for the Belgrade-Pristina Dialogue (National Assembly House, 13 Nikola Pasic Square, hall 1)

15.00 - sitting of the Foreign Affairs Committee (National Assembly House, 13 Nikola Pasic Square, hall 2)

20.00 - the National Assembly Speaker speaks at the closing ceremony of the international competition Mathematical Grammar School Cup (National Assembly House, 13 Nikola Pasic Square, Small Hall)