National Assembly of the Republic of Serbia / Activities / Activity details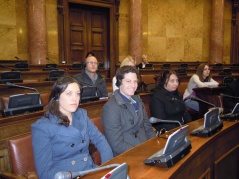 Thursday, 17 November 2011
National Assembly Secretary General Meets With Israeli and British Political and Legal Sciences Students
National Assembly Secretary General Veljko Odalovic and Assistant Secretary General Mirjana Radakovic met today at the National Assembly House with a delegation of students of political and legal sciences from Israel and the United Kingdom, guests of the Union University Faculty of Law from Belgrade.
---
Secretary General Veljko Odalovic briefed the students on the National Assembly's authority and manner of operation. The National Assembly's work in the current convocation is very intensive which is evident from the 760 adopted legal acts and more than 200 decisions, stated Odalovic. The National Assembly also strengthened its control role as regards the Government and regulatory bodies which was achieved by amending the National Assembly Rules of Procedure. Parallel with its legislative and control function, the Assembly also worked on strengthening parliamentary diplomacy, stressed Odalovic.
The Secretary General spoke with the students about the relations between the Serbian branches of government, the electoral process and party system. The students showed interest in the current political situation in Serbia, particularly relating to Kosovo-Metohija, as well as regards gaining the status of candidate for European Union membership.
---
---
wednesday, 5 october
10.00 - the Chairman of the Foreign Affairs Committee meets with the Belgian Ambassador to Serbia (National Assembly House, 13 Nikola Pasic Square, hall 2)

11.00 - the Chairman of the Foreign Affairs Committee meets with the US Ambassador to Serbia (National Assembly House, 13 Nikola Pasic Square, hall 2)

11.00 - the National Assembly Speaker meets with the Mexican Ambassador to Serbia (National Assembly House, 13 Nikola Pasic Square, hall 1)

12.00 - press conference of MPs Zoran Lutovac and Dragana Rakic (National Assembly House, 13 Nikola Pasic Square, Central Hall)

12.30 - press conference of the SERBIAN MOVEMENT DVERI – PATRIOTIC BLOC Parliamentary Group (National Assembly House, 13 Nikola Pasic Square, Central Hall)

12.45 - the National Assembly Speaker meets with the Iranian Ambassador to Serbia (National Assembly House, 13 Nikola Pasic Square, hall 1)