National Assembly of the Republic of Serbia / Activities / Activity details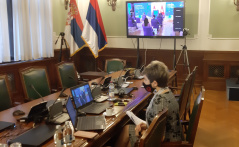 13 November 2020 National Assembly Deputy Speaker and European Integration Committee Chairperson Elvira Kovacs at the on-line conference "Western Balkans and the EU: Democratic consolidation through the fulfilment of political criteria"
Friday, 13 November 2020
National Assembly Deputy Speaker and European Integration Committee Chairperson at On-Line Conference Western Balkans and EU
National Assembly Deputy Speaker and European Integration Committee Chairperson Elvira Kovacs took part in the on-line conference "Western Balkans and the EU: Democratic consolidation through the fulfilment of political criteria", organised by the Parliament of Montenegro and Centre for Democratic Transition (CDT), under the auspices of the Balkan Trust for Democracy and the Embassy of the Kingdom of Norway.
---
The participants of the conference discussed the fulfilling of the political criteria from the parliamentary perspective and from the civil society perspective.

The introductory remarks were delivered by the President of the Parliament of Montenegro Aleksa Becic. Besides him and National Assembly Deputy Speaker Kovacs, the conference was also attended by the Director Executive of the Centre for Democratic Transition Dragan Koprivica, Director Executive of the Centre for Democratic Transition Gordana Delic, Ambassador of the Kingdom of Norway to Serbia, North Macedonia and Montenegro Jørn Eugene Gjelstad, members of the Parliament of Montenegro Slaven Radunovic and Nikola Rakocevic, Chair of the Joint Committee on European Integration of the Parliamentary Assembly of Bosnia and Herzegovina Nikola Lovrinovic, Chairperson of the Committee on European Affairs of the Assembly of the Republic of North Macedonia Arber Ademi, and a considerable number of representatives of the parliaments, executive authorities, media and civil society from the region.

The participants agreed that political criteria secure the most important factors viz. the people's trust in the institutions, and that it is essential to ensure the functioning of democratic institutions and strengthening of the parliament and parliamentary democracy. Elvira Kovacs briefed the participants on the key topics of the European Commission's 2020 Progress Report on Serbia concerning the National Assembly and responded to them.


---
---