National Assembly of the Republic of Serbia / Activities / Activity details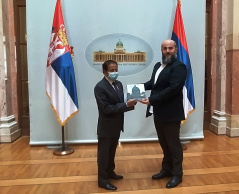 25 February 2021 The National Assembly Deputy Speaker with the Ambassador of the State of Qatar
Thursday, 25 February 2021
National Assembly Deputy Speaker Zukorlic and Qatari Ambassador Discuss Improving Friendly Relations between Two Countries
National Assembly Deputy Speaker and Head of the Parliamentary Friendship Group with Qatar Muamer Zukorlic met with the Ambassador of the State of Qatar to the Republic of Serbia Sheikh Mubarak bin Fahad Al-Thani.
---
In a friendly and cordial conversation, National Assembly Deputy Speaker Muamer Zukorlic emphasized the importance of developing relations between Serbia and Qatar, especially in the fields of economy, education, scientific and cultural exchange. He said he had high hopes for the realisation of concrete forms of cooperation in the upcoming mandate, despite the difficulties caused by the COVID crisis. Deputy Speaker Zukorlic informed his guest that the current legislature's PFG with Qatar was larger than the previous as more MPs expressed interest in its work than before.
Congratulating his host on his election as Deputy Speaker of the National Assembly, Ambassador Al-Thani informed him about the formation of a friendship group with Serbia in the Qatari State Council. The Ambassador endorsed the proposals for cooperation presented, emphasising that the parliamentarians' engagement in friendship groups is an excellent way to get to know each other better.
---
---