National Assembly of the Republic of Serbia / Activities / Activity details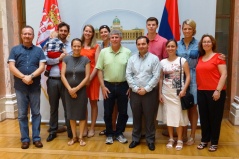 23 June 2016 National Assembly Deputy Speaker Vladimir Marinkovic and the delegation of US Programme "International Leadership Gathering"
Thursday, 23 June 2016
National Assembly Deputy Speaker Vladimir Marinkovic Meets with Delegation of US Programme "International Leadership Gathering"
National Assembly Deputy Speaker Vladimir Marinkovic welcomed a delegation of the US programme "International Leadership Gathering" to the National Assembly House and highlighted the importance of the cooperation between the two countries.
---
Marinkovic mentioned the excellent global cooperation between the two countries emphasising the significance of the interstate agreement between the Republic of Serbia and the USA which reinstated the direct flights for the US after a 25-year break and gave a positive boost to the economic and political cooperation. He said that for years now big companies have been doing business on the territory of the Republic of Serbia, adding that he appreciated the efforts the US puts into the talks and reconciliation between Serbia and the countries in the region and explaining to the guests that instability in one country in the Western Balkans can cause instability in the entire region.

The US delegation had many questions about Serbia's education system and the mechanisms it employs to establish bilateral relations with the countries in the region, adding that they hoped the Regional Prayer Breakfast held last month in Belgrade and modelled after the traditional US National Prayer Breakfast would also become a tradition which will bolster Serbia's international relations. After the meeting, the US delegation was taken on a tour around the National Assembly House.


---
---
| M | T | W | T | F | S | S |
| --- | --- | --- | --- | --- | --- | --- |
| 27 | 28 | 29 | 30 | 31 | 1 | 2 |
| 3 | 4 | 5 | 6 | 7 | 8 | 9 |
| 10 | 11 | 12 | 13 | 14 | 15 | 16 |
| 17 | 18 | 19 | 20 | 21 | 22 | 23 |
| 24 | 25 | 26 | 27 | 28 | 29 | 30 |
| 31 | 1 | 2 | 3 | 4 | 5 | 6 |
sunday, 9 august
No announcements for selected date