National Assembly of the Republic of Serbia / Activities / Activity details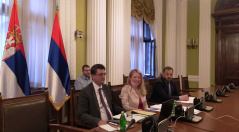 15 June 2020 National Assembly Deputy Speaker Veroljub Arsic speaks at the video conference of the session of the Council of the Parliamentary Assembly of the Collective Security Treaty Organisation (CSTO PA)
Monday, 15 June 2020
National Assembly Deputy Speaker Veroljub Arsic at CSTO PA Session
Speaking today at the video conference of the session of the Council of the Parliamentary Assembly of the Collective Security Treaty Organisation (CSTO PA), National Assembly Deputy Speaker Veroljub Arsic emphasized the importance of cooperation within the parliamentary organization.
---
Arsic said that the Serbian Guard's participation in the coming Victory Day parade marking the 75th anniversary of victory over fascism is a symbol of said cooperation.
Deputy Speaker Arsic said we live in times of complex international challenges and seeing the COVID pandemic demonstrate our strong awareness of the need for cooperation, decisiveness, organization and humanity in the face of sudden challenges such as that one was very reassuring. He especially thanked the doctors and members of the Russian Army's CBRN specialised service for humanitarian cooperation and protection of the populace.
The National Assembly Deputy Speaker also spoke about Kosovo-Metohija, a priority issue for Serbia, stressing the country's continuous calls to respect international law and find a compromise solution through dialogue, one in the interest of all parties involved.

"We especially appreciate the cooperation with states that share our support for international law i.e. the principle of respecting the territorial integrity and sovereignty of states", said Veroljub Arsic, thanking the CSTO member states for their principled support concerning the non-recognition of the unilaterally declared independence of Kosovo-Metohija.
Arsic said that Serbia is to have a parliamentary and local election on 21 June and he expects the people to support the development goals and cooperation drafted by the state leadership, stressing that he is sure Serbia would continue with its activities and cooperation within the CSTO PA.
The session of the CSTO PA Council was chaired by the Speaker of the Russian State Duma Vyacheslav Volodin who presented the Russian Federation's priorities during the presidency of the Collective Security Treaty Organisation in 2020.


---
---
saturday, 25 june
No announcements for selected date