National Assembly of the Republic of Serbia / Activities / Activity details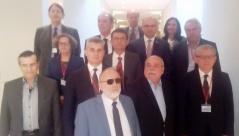 7 April 2017 Deputy Speaker Arsic at the 15th Conference of the Speakers of the Parliaments of the Adriatic Ionian Initiative
Friday, 7 April 2017
National Assembly Deputy Speaker Veroljub Arsic at 15th Conference of Speakers of Parliaments of Adriatic Ionian Initiative
National Assembly Deputy Speaker Veroljub Arsic is taking part in the 15th Conference of the Speakers of the Parliaments of the Adriatic Ionian Initiative in Ioannina, Greece, with the topic advancing parliamentary cooperation within the Adriatic Ionian framework, development of projects within the European strategy for the region and blue growth potentials.
---
"The Adriatic Ionian Initiative is an excellent framework for project cooperation between the EU member states and the Balkan candidates and an instrument to further ties with the Union, which is our foreign policy priority", said Deputy Speaker Arsic.

The Conference is attended by the parliament speakers, deputy speakers and representatives from Italy, Bosnia and Herzegovina, Croatia, Albania, Montenegro, Slovenia and the host Greece.


---
---
| M | T | W | T | F | S | S |
| --- | --- | --- | --- | --- | --- | --- |
| 27 | 28 | 29 | 30 | 31 | 1 | 2 |
| 3 | 4 | 5 | 6 | 7 | 8 | 9 |
| 10 | 11 | 12 | 13 | 14 | 15 | 16 |
| 17 | 18 | 19 | 20 | 21 | 22 | 23 |
| 24 | 25 | 26 | 27 | 28 | 29 | 30 |
| 31 | 1 | 2 | 3 | 4 | 5 | 6 |
saturday, 15 august
No announcements for selected date