National Assembly of the Republic of Serbia / Activities / Activity details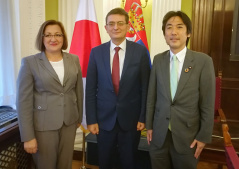 23 July 2019 National Assembly Deputy Speaker Veroljub Arsic and Environmental Protection Committee member Prof. Dr Snezana Bogosavljevic Boskovic in meeting with the secretary of the Japanese PFG with Serbia and State Minister of the Environment
Tuesday, 23 July 2019
National Assembly Deputy Speaker Veroljub Arsic and MP Snezana Bogosavljevic Boskovic Meet with Japanese MP and State Minister of the Environment
National Assembly Deputy Speaker Veroljub Arsic and Environmental Protection Committee member Prof. Dr Snezana Bogosavljevic Boskovic met today at the National Assembly House with the secretary of the Japanese PFG with Serbia and State Minister of the Environment Minoru Kiuchi.
---
Deputy Speaker Arsic said that the Serbian people consider Japan a friendly country and he is happy that the relations between the two countries are entering a new positive period, as evidenced by the Japanese Prime Minister's visit to Serbia in 2018. Veroljub Arsic said that Japan is a country with a strong and serious economy and an important global role and political significance. He also thanked Japan for the donations which have from 1999 to date exceeded half a million euros.
The secretary of the Japanese PFG with Serbia and State Minister of the Environment Minoru Kiuchi said that Japan puts great stock in its bilateral relations with Serbia as the country plays an important role in promoting and maintaining peace and stability in the Western Balkans. Japan also fully endorses Serbia's European integration and successfully conducted socio-economic reform.
The officials agreed that there is ample room to advance interparliamentary cooperation both at the level of committees and PFGs and within international parliamentary organizations, especially the Inter-Parliamentary Union whose 141st Assembly Serbia is to host in October.
In addition to economic, the two countries could also intensify cultural cooperation as cultural exchange can be an excellent way to bring the two nations closer together, said the National Assembly Deputy Speaker.
He also thanked Japan for abstaining during so-called Republic of Kosovo's UNESCO and INTERPOL bids which is a clear support for the continuation of the Belgrade-Pristina dialogue and peaceful resolution of all outstanding issues and problems through compromise, acceptable for both sides, which Serbia is committed to.
The meeting then focused on environmental protection - global, national and local. Minoru Kiuchi informed the hosts about the anti-air and -water pollution and waste management laws passed in Japan in the 1960s. Veroljub Arsic praised Japan's pronounced environmental awareness and global responsibility.
Environmental Protection Committee member Snezana Bogosavljevic Boskovic said she was greatly pleased by Serbia and Japan's environmental cooperation, stressing the importance of project flue gas desulfurization in the Nikola Tesla Power Plant realized with Japan's help which is to contribute to the reduction of greenhouse gas emissions. She also emphasized Japan's significant donations to local self-governments for environmental projects at the local level.
The officials agreed that environmental issues are very important and that Serbia and Japan have set an excellent groundwork for future environmental ventures.


---
---
monday, 16 may
No announcements for selected date