National Assembly of the Republic of Serbia / Activities / Activity details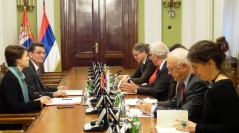 17 March 2017 The National Assembly Deputy Speaker in meeting with the German parliamentary delegation
Friday, 17 March 2017
National Assembly Deputy Speaker Veroljub Arsic Talks to German Bundestag's Parliamentary Delegation
National Assembly Deputy Speaker Veroljub Arsic met today, at the National Assembly House, with a delegation of the German Bundestag comprising members of the Committee for the Scrutiny of Elections, Immunity and the Rules of Procedure.
---
Arsic said how pleased he was by the visit stressing that Serbia spares no efforts to fulfil the EU membership requirements, which is greatly helped by Germany as Serbia's chief ally in the process. Arsic said he was sure Germany would continue to support Serbia when it comes to stability in the Balkans because it contributes both to the safety and security of the citizens of Serbia and the region, as well as peace in Europe.

The head of the German delegation Helmut Brandt said that Germany is a reliable partner to Serbia's Euro-integration efforts and would continue to follow these developments and contribute to stability in the Balkans. He also hopes that the Serbian citizens will, in the coming election, choose a representative who will continue to strongly support Serbia' efforts toward becoming a full EU member.


---
---
friday, 4 december
No announcements for selected date