National Assembly of the Republic of Serbia / Activities / Activity details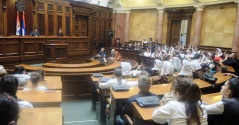 18 November 2016 The folklore ensemble from Corfu and the choir of "Ivo Andric" Elementary School from Belgrade at the National Assembly
Friday, 18 November 2016
National Assembly Deputy Speaker Veroljub Arsic Receives Folklore Ensemble from Corfu and "Ivo Andric" Elementary School Choir from Belgrade
National Assembly Deputy Speaker and Head of the Parliamentary Friendship Group with Greece Veroljub Arsic welcomed, on the behalf of National Assembly Speaker Maja Gojkovic and himself, a folklore ensemble from Corfu and the choir of "Ivo Andric" Elementary School from Belgrade.
---
Veroljub Arsic said that the relations between Greece and Serbia are excellent and that the two countries enjoy a centuries-old friendship, stressing that Serbs have a special relationship with the people of Corfu. "The tradition, begun a 100 years ago with a tragedy when the Serbian army came to Corfu, continues in a much better tone", said Arsic.

"I am so happy to see so many young people because it is you who should continue the tradition of friendly relations between our two countries and people", said Arsic.


---
---
| M | T | W | T | F | S | S |
| --- | --- | --- | --- | --- | --- | --- |
| 27 | 28 | 29 | 30 | 31 | 1 | 2 |
| 3 | 4 | 5 | 6 | 7 | 8 | 9 |
| 10 | 11 | 12 | 13 | 14 | 15 | 16 |
| 17 | 18 | 19 | 20 | 21 | 22 | 23 |
| 24 | 25 | 26 | 27 | 28 | 29 | 30 |
| 31 | 1 | 2 | 3 | 4 | 5 | 6 |
friday, 7 august
No announcements for selected date