National Assembly of the Republic of Serbia / Activities / Activity details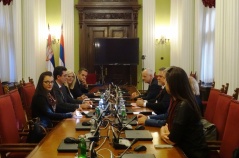 6 October 2016 National Assembly Deputy Speaker Veroljub Arsic in meeting with German Parliamentarian Jorn Wunderlich
Thursday, 6 October 2016
National Assembly Deputy Speaker Veroljub Arsic Meets with German Parliamentarian Jorn Wunderlich
The National Assembly Deputy Speaker said he was very pleased with the exceptionally good relations between the two countries, especially in the sphere of parliamentary cooperation which has been intensified in the last years. Arsic commended the programme of International Parliamentary Scholarships adding that the National Assembly is ready to continue taking active part in it.
---
Veroljub Arsic informed the guest that a parliamentary friendship group, which has previously proved essential for the development of relations with Germany, is in the process of being established.

Jorn Wunderlich thanked the National Assembly for its support of the programme of International Parliamentary Scholarships and the opportunity for selected interns to complete part of their training at the National Assembly before going to the Bundestag.

Wunderlich believes that the stability in the region greatly depends on Serbia's status of EU candidate country, and Arsic thanked Germany for its support of Serbia on the path to the EU.

National Assembly Secretary General Svetislava Bulajic said that the Assembly will provide maximum support to the programme of International Parliamentary Scholarships, at the best of its ability. She also believes it beneficial that Serbian students will have the chance to visit highly renowned universities in Berlin.


---
---
| M | T | W | T | F | S | S |
| --- | --- | --- | --- | --- | --- | --- |
| 27 | 28 | 29 | 30 | 31 | 1 | 2 |
| 3 | 4 | 5 | 6 | 7 | 8 | 9 |
| 10 | 11 | 12 | 13 | 14 | 15 | 16 |
| 17 | 18 | 19 | 20 | 21 | 22 | 23 |
| 24 | 25 | 26 | 27 | 28 | 29 | 30 |
| 31 | 1 | 2 | 3 | 4 | 5 | 6 |
sunday, 9 august
No announcements for selected date