National Assembly of the Republic of Serbia / Activities / Activity details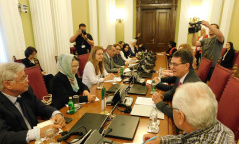 9 June 2019 National Assembly Deputy Speaker Veroljub Arsic in meeting with the Algerian parliamentary delegation
Tuesday, 9 July 2019
National Assembly Deputy Speaker Veroljub Arsic Meets with Algerian Parliamentary Delegation
National Assembly Deputy Speaker Veroljub Arsic met today with the Algerian parliamentary delegation headed by Jafar Noara Sadia.
---
Arsic welcomed the Algerian delegation on behalf of the National Assembly Speaker and himself, saying he hoped this visit would contribute to the further advancement of the already traditionally excellent relations between the two countries. He pushed for advancing parliamentary cooperation as a direct channel which could greatly contribute to the improvement of overall relations, as proved by Serbia's cooperation with Algeria in the Inter-Parliamentary Union and the Parliamentary Assembly of the Mediterranean, he opined also thanking Algeria for its support within the Arab Inter-Parliamentary Union and the Pan-African Parliament, stressing that this cooperation is important for combating terrorism and organized crime. Arsic believes that there is room to advance cooperation in the areas of defence and foreign and internal affairs in response to global challenges. He also endorsed the cooperation of the women's parliamentary networks and Algeria-Serbia parliamentary friendship groups.
Deputy Speaker Arsic also thanked Algeria for respecting the basic tenets of international law in the case of Serbia's southern province, stressing that this is support not only for Serbia, but for peace in general, and saying that the only sustainable solution to the Kosovo-Metohija problem is one acceptable to both sides.
Arsic then spoke about the importance of advancing cultural cooperation as an excellent and in many cases unfairly neglected bridge of cooperation between nations.
The head of the Algerian parliamentary delegation Jafar Noara Sadia said that the people of Algeria are very proud of the traditionally good relations with Serbia as it is a reminder of the countries' work in the Non-Aligned Movement whose most basic principle was protection of human rights which Algeria is still trying to keep at the highest level. Speaking of global threats like terrorism, she said that Algeria is doing its utmost to address the problem at the national and international level which is one of the many reasons why its cooperation with Serbia is important. She also emphasized the importance of parliamentary diplomacy and supported Deputy Speaker Arsic's view that parliamentary contacts should be strengthened though the work of committees and delegations, hoping that a Serbian delegation's visit to Algeria would advance the two parliaments' cooperation on preserving world peace. She also praised his view that all outstanding issues should resolved through dialogue.


---
---
monday, 16 may
No announcements for selected date